Building your dream home is an incredible time, a chance to bring all your favorite design preferences together into a place you will cherish with your loved ones for years. Just as important as picking your favorite materials, flooring, and colors, it's the details that make all the difference and will truly bring your ultimate vision to life. North Georgia Bricks products are the perfect materials to allow you and your designers the opportunity to personalize your build at nearly every opportunity. From windows and edges to creative installation patterns, here are some of our favorite architectural special touches and details with brick:
1. Framing Windows – We cherish the windows in our homes for the natural light they allow inside, opening our interiors and brightening every room. On our home exterior, they also break up any possible monotony of the materials and provide added design elements. We love the technique of adding visual interest by framing windows with either complementary or contrasting brick edging, like the technique used in this senior living facility with Evelyn Bay brick (below). The dark contrast brick window framing adds an air of skilled craftsmanship and subtle intricacy that communicates warmth, quality, and taste!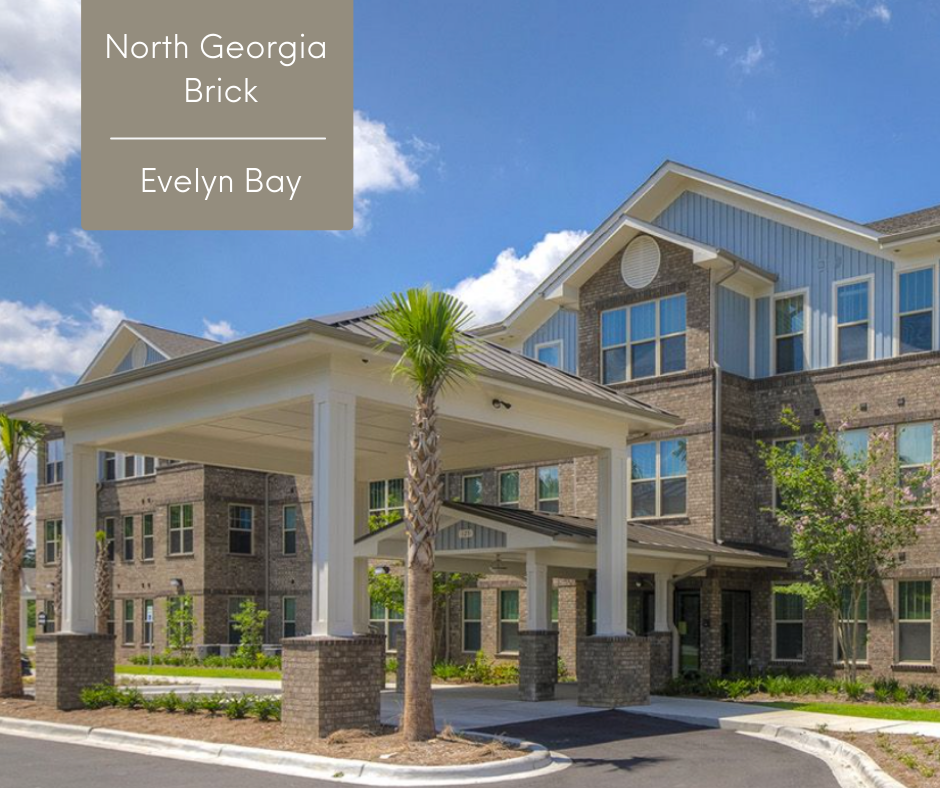 2. Rotating & Extruding Brick – Similarly to using brick to frame windows, you can also present simple, architectural brickwork by rotating or partially extruding brick to add value and interest to a façade. From vertical stripes to diamonds, the playful use of Cambridge brick (below 1st) adds tremendously to the personality of this quaint home exterior. Similarly, the little touches to the window treatment using angled, extruding Nottingham Tudor brick (below 2nd) use natural light to perfection for added depth and dimension. Simply put, details matter.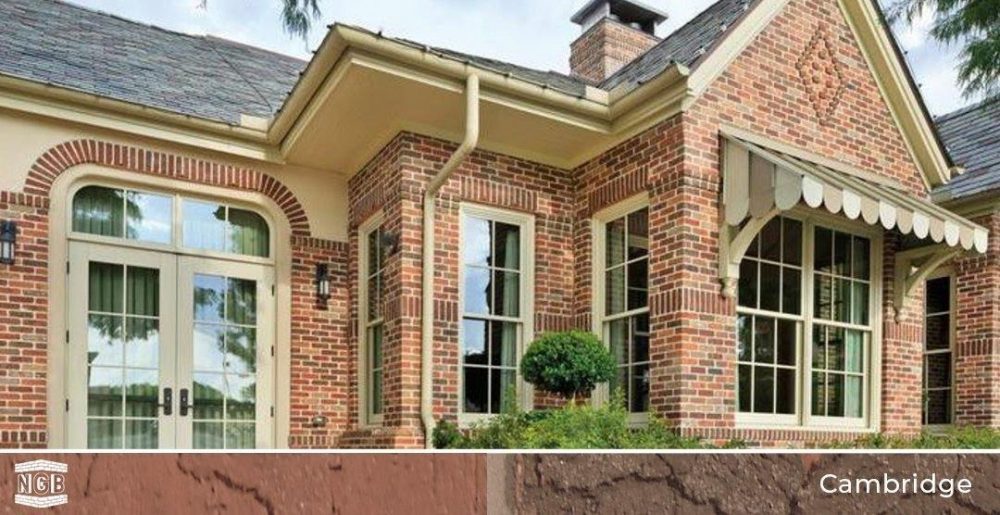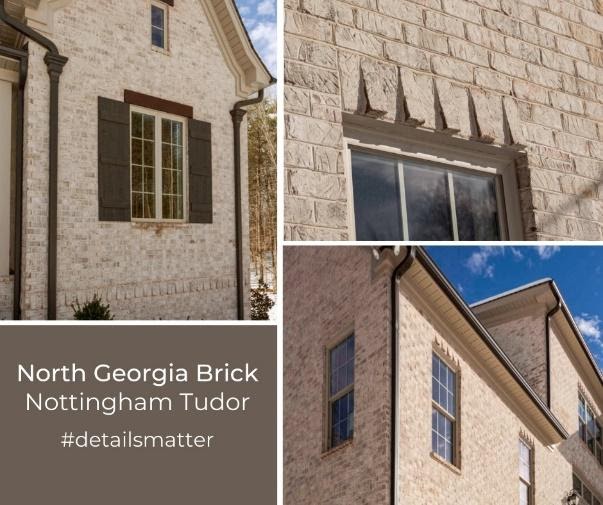 3. Herringbone Installation Pattern – Your home exterior is not the only place you can add architectural special touches with brick, your interior will receive the same added personality, texture, and artisanal flair! Just like using hardwood planks or tile to create a visually engaging installation, you can install brick with a pattern such as herringbone for standout design. For a stylish, café-like feel, we love the use of English Pub thin brick (below 1st) to add charming character in the kitchen. Make a statement in your foyer with an Ironworks thin brick (below 2nd) inlay that will dazzle your guests as they enter the home: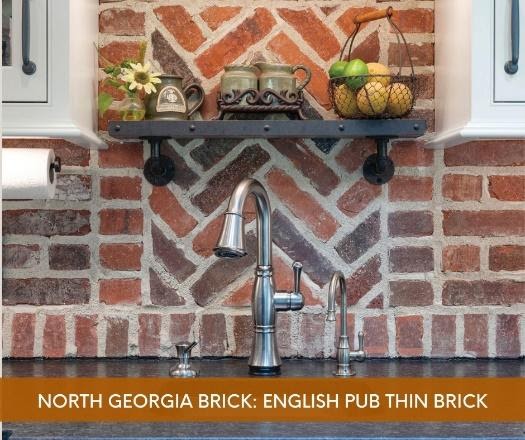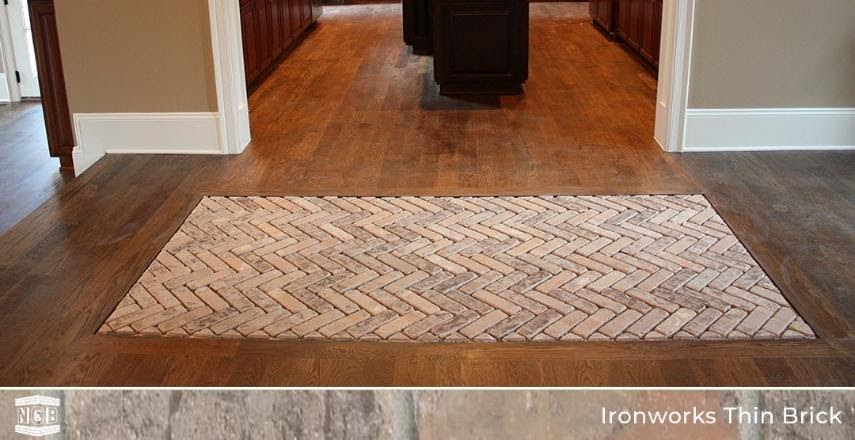 4. Parquet Installation Pattern – Consider also installing brick in a classic parquet pattern to achieve a creative effect. We can't get over the unique combination of rustic Ironworks thin brick (below 1st) in a parquet layout with black, high-gloss tile accents. A parquet installation also suits an inviting outdoor space such as this seating area created with Pathway Full Range Pavers (below 2nd), ideal for relaxing with a cool drink: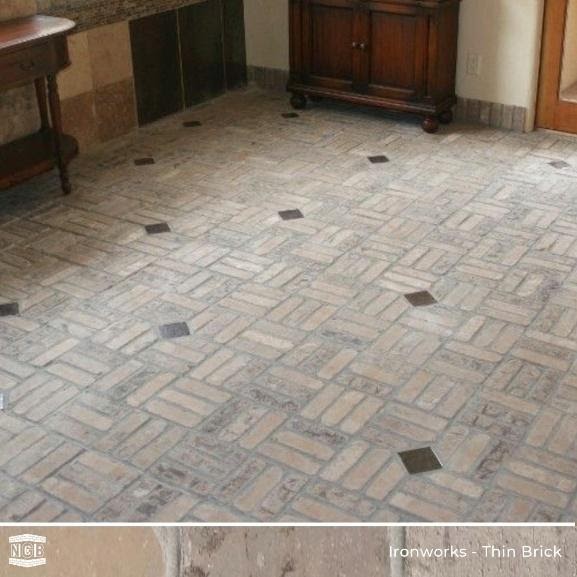 These striking examples only scratch the surface of the detailed flourishes that can be created with brick, and our North Georgia Brick Pinterest page highlights even more inspired concepts that will ignite your imagination. Visit our Cumming or Cartersville showrooms and our brick experts will help you brainstorm the touches that will personalize your dream build!