When the days get longer and the temperatures keep rising, it means that the summer season is upon us! Along with vacations and cookouts, summer calls for plenty of fun days by the pool to beat the heat. Whether you are looking to complete an exterior project or simply enhance the area around your pool, North Georgia Brick stone veneer products are easy to install and perfect for adding a resort-like atmosphere to your backyard. Here are a few of our favorite stone veneer pool accents that will elevate your space with soothing sophistication:
Outdoor Kitchen – Every great pool party deserves a delicious feast of burgers, hot dogs, kabobs, as well as popsicles and cold drinks. You can use stone veneer to craft a stylish kitchen and grilling area by your pool so that the fun doesn't have to go indoors when your crowd gets hungry! We love the soothing tones and organic beauty of this kitchen crafted with Olde World series stone in Mossy Creek (below) that blends in seamlessly: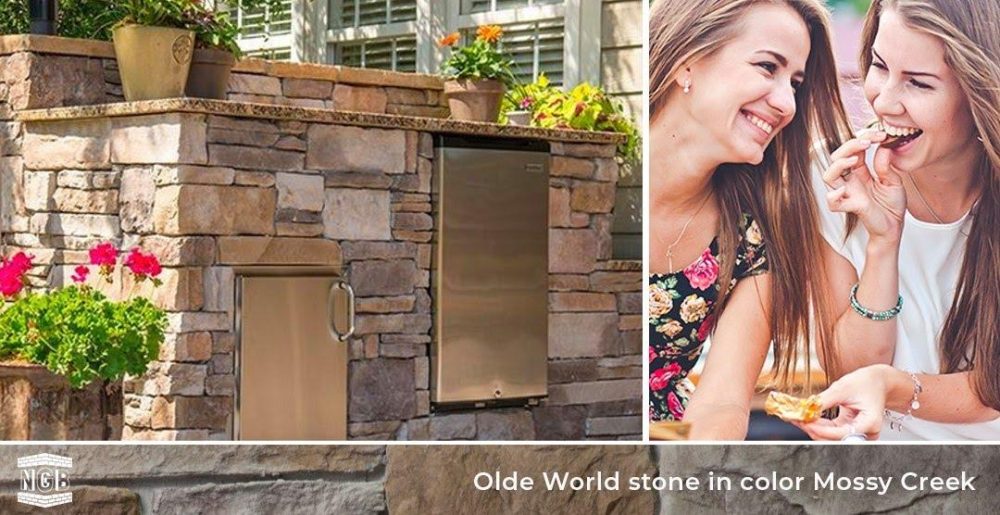 Columns/Covered Spaces – If your pool area features a covered space, consider using stone veneer to create columns that lend a touch of luxury. With chiseled texture, symmetrical shape, and clean lines, stone veneer brings the same contemporary and modern appeal to your pool area that it does to your interior design. These columns made with Rockface stone in color Hermitage (below) give your pool a relaxing hotel vibe:

Accent Wall – With an exquisitely designed pool area using stone veneer, you can get the feeling of a relaxing getaway right in your own backyard! A stunning stone accent wall can be nothing short of transformative in bringing the upscale appeal to this favorite space. We can't get enough of the natural "stacked" look of this accent wall created with Ledgestone series stone in color Harbor Bluff (below), and the elegant, rich colors and genuine textures it provides:
Outdoor Fireplace – As the sun goes down and the stars come out across the night sky, your pool area can still provide the perfect vibes for an evening swim. Consider using stone veneer to build an outdoor fireplace perfect for roasting marshmallows and having meaningful conversations through the night. Between the relaxing water and enchanting flames from this Handcrafted series stone in Mossy Creek outdoor fireplace (right), you may stop spending most of your time indoors!
Your favorite stone veneer pool accents can be completed quickly with flawless results thanks to the exceptional ease of installation of North Georgia Brick Stone Veneer. Visit our Cumming or Cartersville showroom to begin planning your project and get ready to enjoy your upgraded pool area all summer long!