As commercial business owners weigh the value and potential concerns when selecting materials to complete a build, the many impressive financial and performance benefits of brick put it at the top of the list. In addition to gorgeous beauty, long-lasting durability, energy efficiency, and keeping structures up to code, brick allows companies to earn points toward sustainable certification!
Leadership in Energy and Environmental Design or LEED is the most widely used green building rating system in the world and provides a framework for healthy, efficient, and cost-saving green buildings. Within LEED rating systems, there are various adaptations for common project types and specific building types including new construction, interiors, operations and maintenance, and core and shell.
One of the most ecologically responsible building materials available, North Georgia Brick is made from only natural raw materials, clay, and water, without any chemicals or complex components. Clay brick is recyclable and can be repurposed for the creation of mortar, cement, and gravel with virtually zero waste.
When building with sustainable certification in mind, the following ways outline how commercial business owners are directly and indirectly earning LEED points with brick construction:
Energy and Atmosphere – These credits are for existing buildings that approach energy from a complete perspective by reducing energy use, addressing ongoing system performance, and using renewable energy to improve building operations:
Optimize Energy Performance (1 up to 19 points) – Brick's high thermal mass and insulating value reduces peak demand energy loads, decreasing the size of the HVAC system.
Materials and Resources – These credits focus on minimizing embodied energy and other impacts associated with the creation, processing, transportation, maintenance, and disposal of building materials. Brick can help earn points in the following ways:
Building Reuse – Exterior Walls (1 to 3 points) & Interior Walls (1 point) – Older brick buildings are prime candidates for reuse and many brick buildings take on new life as hip, highly desirable lofts, condos, and other retail and restaurant uses.
Construction Waste Management (up to 2 points) – Brick's small unit size and minimal packaging helps divert waste from landfills. In some cases, brick can be used as site fill or as infill for walls.
Material Reuse (up to 2 points) – Salvaged brick can be used in road construction or incorporated into other projects. Brick masonry is among the most commonly salvaged building materials.
Recycled Content ( 1 to 2 points) – Brick from the Rome, GA plant incorporates recycled or industrial waste aggregates that are rendered harmless when the brick is fired.
Regional Materials (1 to 2 points) – Supports regional economy and reduces environmental impacts from transportation by using brick manufactured within a 500 mi radius of the project site. Most brick raw materials are obtained within an average of 15 miles or less from regional plant locations that provide a wide coverage of areas.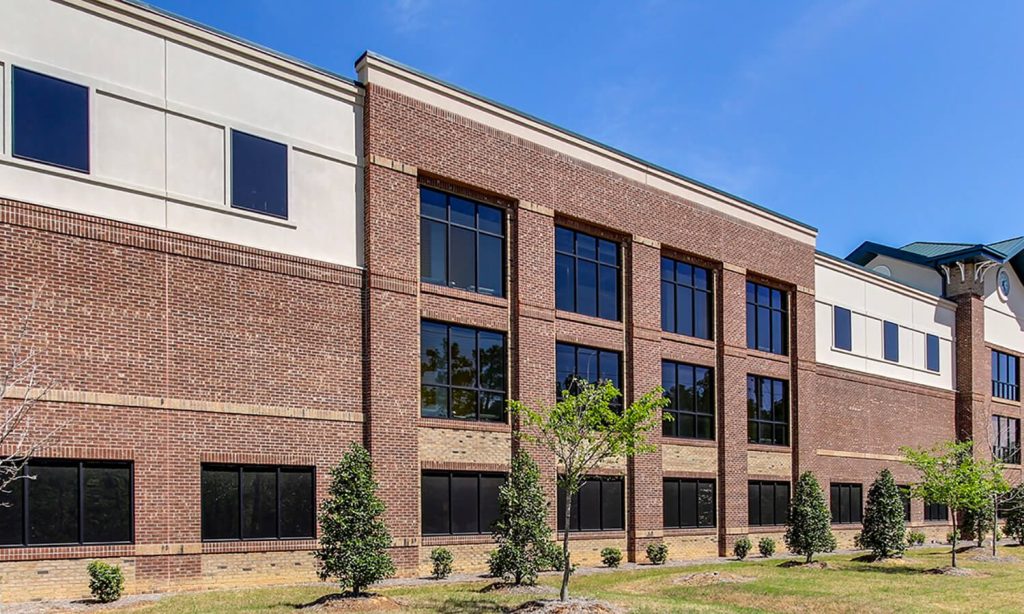 Sustainable Sites – These credits ensure that a building's natural environment is valued and respected throughout every step of the building process, from planning to construction to management:
Development Density & Community Connectivity (up to 5 points) – Brick masonry lends itself to designs that can take advantage of small, irregular lots, and buildings with brick veneer can be built closer together since it has a non-combustible finish.
Site Development (1 point) – Brick pavers are often used in open spaces to allow a firm, stable, accessible surface for pedestrians, and brick paving surfaces can also be made permeable.
Stormwater Design – Quantity Control (1 point) – Brick construction can help reduce stormwater runoff with calculations for both pre- and post-construction sites.
Stormwater Design – Quality Control (1 point) – Brick construction that helps capture and treat 90% of average rainfall, as well as remove 80% of post-development suspended solids.
Heat Island Effect (non-roof) (1 point) – Brick construction that helps keep the SRI (Solar Reflective Index) > 29.
The "whole building approach" that LEED Certification provides has been documented to produce long-term employee benefits such as reducing sick days, improving performance, and increasing focus, as well as improving building performance, saving on health spending, and reducing the amount of cleaning products needed to maintain the structure.
Visit the brick experts in our Cumming and Cartersville showrooms as you begin exploring the ways that brick can help your commercial build achieve true sustainability!