If you are looking to achieve successful interior renovations, accent work, or create a special visual effect, the full line of North Georgia Brick thin brick options will be the perfect lightweight, affordable covering to get your project done! Whereas full bricks are used to create structural support, thin brick needs a structure to hold it up. This characteristic makes thin brick the perfect material to take your kitchen or bathroom backsplashes from ordinary to memorable.
Occasionally a forgotten design element, the backsplash is the material covering the bathroom wall behind the sink and the faucet, or the kitchen wall between the countertops and the base of the upper cabinets. Modern builders, homeowners, and interior designers are now using backsplashes as an extra area to add visual interest, enhance an aesthetic, and showcase more texture, colors, and shapes.
Just like full brick, thin brick offers more protection than most other building materials and will last for decades in your home. These thinner cut options offer all the visual appeal but do not require a foundational brick ledge and can be installed over existing drywall. With tremendous ease of installation, you may decide that creating a thin brick backsplash is a DIY project that you are excited to take on!
We love this helpful video created by Brick Industry Association (BIA) that outlines the entire process from start to finish. If you feel confident taking on a new project, review these best practices for how to create a DIY thin brick backsplash:
INSERT Brick Industry Association "Thin Brick DIY Backsplash" YOUTUBE VIDEO
Tools for DIY Thin Brick Backsplash – Before you begin any DIY project, it's important to make sure you have the right tools for the job! We always recommend safety glasses, gloves, and a dust mask when needed. Double-check this tool list to be sure that you are completely prepared to handle every step:
Thin Brick
Spacers (Optional)
Spiral Mixing Arms
Thin Set Mortar
Masonry Paint
Brick Jointer
Trowel (Optional)
Paint Brush
Masking Tape
Chalk Reel (Optional)
Construction Adhesive
Bucket
Asphalt Brush
Power Drill
Tile Cutting Saw (Diamond Blade)
Grout Space
Grout Bag
Dropcloth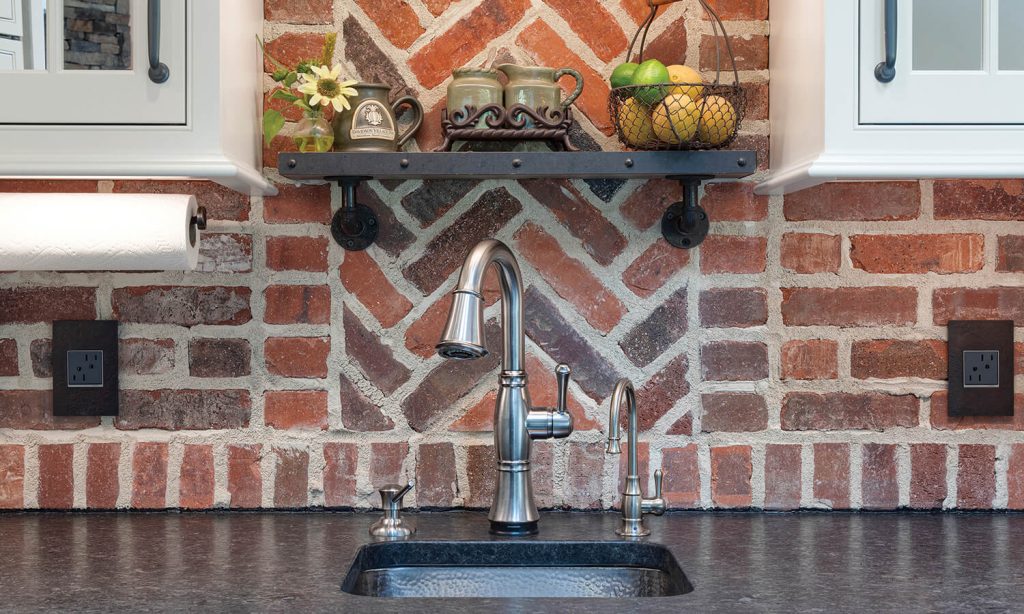 Installing Your DIY Thin Brick Backsplash – Now that you have all your tools together, it's time to begin your thin brick backsplash installation. Go slow and take your time to do it right. You can do it!
Remove all outlet wall plates.
Prep your workspace using tape and dropcloth.
Place adhesive on the back of your thin brick.
Begin placing your brick on the wall.
Choose your pattern based on your desired design outcome.
Continue your pattern for the remainder of the wall.
Mix the mortar with water.
Use a mortar bag to fill in the joints.
Use a concave jointing tool to smooth out the mortar.
Clean excess mortar with a sponge.
Allow the mortar to dry for 24-48 hours!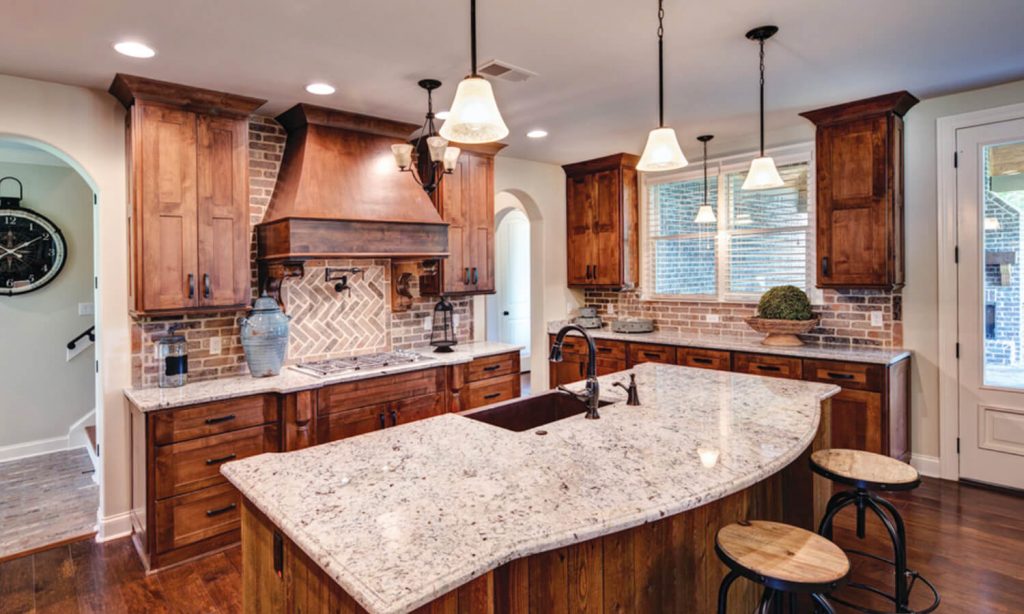 Enhancing Your DIY Thin Brick Backsplash – If you are interested in enhancing your thin brick backsplash with unique creativity, you can use diluted paint to create a one-of-a-kind look. Follow these steps to add a popular whitewash for weathered appeal:
Dilute your masonry paint following the package instructions.
Wet your brick to prep for painting.
Begin painting brick in 2×2 Sections.
Wipe excess paint as you go.
Allow the paint to dry for 24 hours!
We have written at length about the many valuable ways that thin brick can elevate your chic rooms with the undeniable visual of classic brick. Make sure to check out our North Georgia Brick Pinterest page for more thin brick inspiration and tag us in your fabulous thin brick backsplash results!