When it comes to designing inspired rooms in our homes, kitchens are a perfect area to let creative spirit flourish. There's nothing like experimenting with the perfect new recipe or passing down cherished family traditions in an artfully designed kitchen! Whether you aim to capture the feel of a hip, bohemian café, or craft upscale appeal, a brick kitchen backsplash is a savvy way to create an unforgettable culinary space. Create a space that inspires and impresses with these brick kitchen backsplash ideas that are sure to draw rave reviews from your favorite foodies:
The Perfect Mix – There's an easy way to spice up a classic red brick wall: use mixed shade variation within the finished wall for engaging charm. Although this kitchen backsplash using Townsquare thin brick (below) is certainly anchored by recognizable reds, the pops of washed-out brick, dark browns, and every weathered hue in between prevent this finished design from feeling predictable. Combined with the beautiful copper kitchen hood and decorative pieces, this kitchen possesses an undeniably inviting restaurant quality!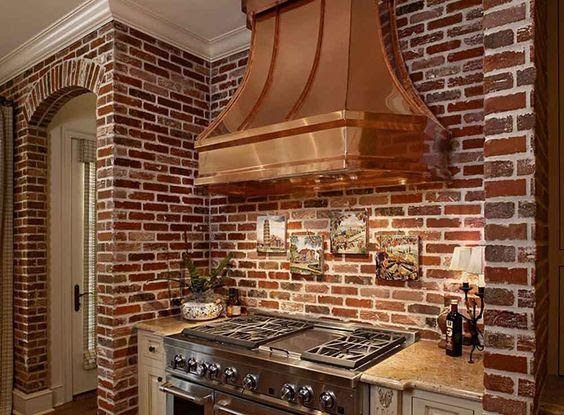 Warm Earthy Tones – As you explore different brick options for your kitchen backsplash, be sure to spend some time considering the color palette of organic, earthy brown brick. This kitchen designed with Ironworks thin brick (below) benefits from the distinctive flecks of color within each brick for unforgettable texture. Already a favorite location in the home, an earth-toned brick backsplash lends extra warmth and rich character to the kitchen while still delivering ample amounts of rustic chic style.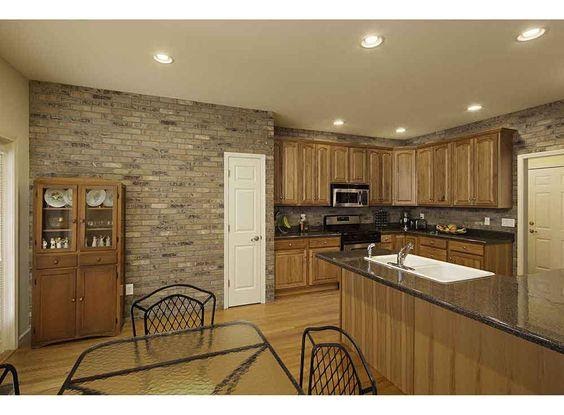 Personalize With Patterns – We often think of brick walls as perfectly parallel horizontal rows for a familiar visual we can all appreciate. However, don't hesitate to explore creating distinct angled patterns within this layout for unique interest! We love the way this English Pub thin brick (below) is arranged with a pop of herringbone pattern as well as vertical rows to frame the sink area. Personalize your brick kitchen backsplash layout with the patterns you love to achieve a classic look that's all your own.
Whitewashed Elegance – Depending on the desired aesthetic you want for your kitchen, you may consider creating a whitewashed brick backsplash for elevated elegance. To achieve this luxurious effect, mix water with white paint and use a large paintbrush to apply. You can opt for a dramatic, all-over monochromatic application, create a cloudier, softer finish, or paint distressed white patches that let the original brick color shine through.
The perfect brick kitchen backsplash is the design that you will enjoy during every second of cooking memorable meals for your loved ones. If you need inspiration to guide your design vision, think of your favorite food memories from both growing up and your adult travels. Visit our Cartersville or Cumming showroom when you are ready to bring your kitchen to life and our design experts will help you every step of the way!