In Photo: Brick – Bradford Hall Tudor
"GIVE ME A BRICK AND IT BECOMES
WORTH ITS WEIGHT IN GOLD"
- Frank Lloyd Wright
ACCORDING TO THE NATIONAL ASSOCIATION OF HOME BUILDERS,
34% OF RESPONDENTS RANK BRICK AS THEIR TOP CHOICE FOR HOME EXTERIORS, FOLLOWED BY VINYL AT 21%, STONE AT 16%, STUCCO AT 12% AND WOOD AT 7%.
Did you know that the Great Wall of China, The Pantheon, the Roman aqueducts, and the Taj Mahal were all primarily constructed of brick? One of the oldest building materials made, brick dates all the way back to 7000 B.C. The strength of this historic material has yet to be surpassed as bricks remain the premier material for residential and commercial construction.
Frank Lloyd Write once said, "Give me a brick and it becomes worth its weight in gold." While other materials have popped up on the market, such as stucco and fiber cement, none of them come close to matching the benefits of brick. Not only does brick last for 500 years or more1, it boasts a long list of advantages that make it a beautiful and smart choice for your home or commercial space.
ADVANTAGES OF BRICK
---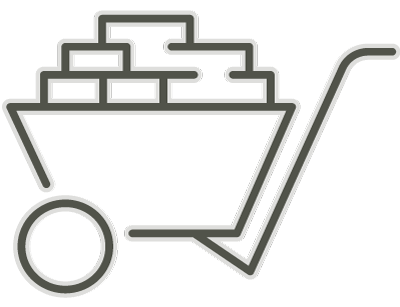 Not only is brick a completely natural material that is non- combustible and recyclable, but it is also an extremely user and maintenance friendly material. Brick's ability to store heat and cool air and support a house's heating system make it the most energy efficient and environmentally friendly material on the market. Building your house out of brick basically pays for itself as it is a material that is extremely durable, less prone to damage, and made to last for generations.
RETAINS ITS VALUE
Brick homes appreciate in value more over time than homes made of other building materials. Brick homes also improved the appraised value of the neighborhoods and communities they are built in2.
LOW TO NO MAINTENANCE
Brick doesn't need paint, stain, or other treatments to maintain it's good looks and exceptional durability, saving cost and time.
SAVES ON ENERGY BILLS
Brick helps store heat your home in the winter and cool it in the summer, which, according to the U.S. Department of Energy, when properly insulated saves a homeowner about 20% per year on their heating and cooling bills3.
MOLD AND MILDEW RESISTANT
Bricks do not support mold growth. Since brick has no living nutrients, and is only mildly porous, it does not naturally trap a lot of moisture. As a result, mold lacks the ideal growth conditions that it would find on a drywall panel or a piece of fabric.
ENVIRONMENTALLY FRIENDLY
With a 100-year-plus life span, a resistance to signs of aging, and inherent thermal mass properties, brick is one of the most sustainable building products available. Bricks can also be recycled, re-used and re-purposed indefinitely, so there's practically no waste.
CONTRIBUTES TO LEED
Brick meets many of the goals of sustainable building design and can contribute up to 11 LEED (Leadership in Energy and Environmental Design) points in the Materials and Resources category4.
BRICK IS BETTER
---
Visit our Brick is Better blog for inspiration and tips on America's most loved building material.
MORE INSPIRATION
---
Check out all the different ways you can enhance your home with brick by visiting our Pinterest page.
NORTH GEORGIA BRICK OFFERS THE LARGEST SELECTION OF BRICK IN GEORGIA FOR THE BUILDING OF RESIDENTIAL AND COMMERCIAL PROJECTS.
---
From traditional to modern, exterior to interior, brick remains one of the most desired types of residential building materials on the market.
Brick is a long-lasting, energy efficient, low maintenance building material that makes it a top choice for commercial projects.