North Georgia Brick – Mixing Brick and Stone Veneer
When it comes to timeless luxury and visual interest, very few home exteriors can rival the perfect pairing of beautiful brick and stylish stone. Stone and brick represent natural, organic materials that still deliver modern sensibility and an elevated appearance. However, it is important to recognize that not just any colored brick and any colored stone variety will work well together. Thoughtful considerations will ensure that the brick and stone work in harmony and produce eye-catching results. Here are a few savvy tips when it comes to mixing brick and stone veneer.
Color Contrast – When pairing a stone variety with a brick option, you want to avoid matching the colors directly. Try to contrast the brick and stone choices while using a unifying accent color or undertone. A gray stone will pair exceptionally well with a brown brick that features shades of grey within. This type of combination will allow each respective material to shine while still remaining connected. This stunning exterior (below) uses the Cane River brick with a contrasting shade in the stone entry for a dazzling effect.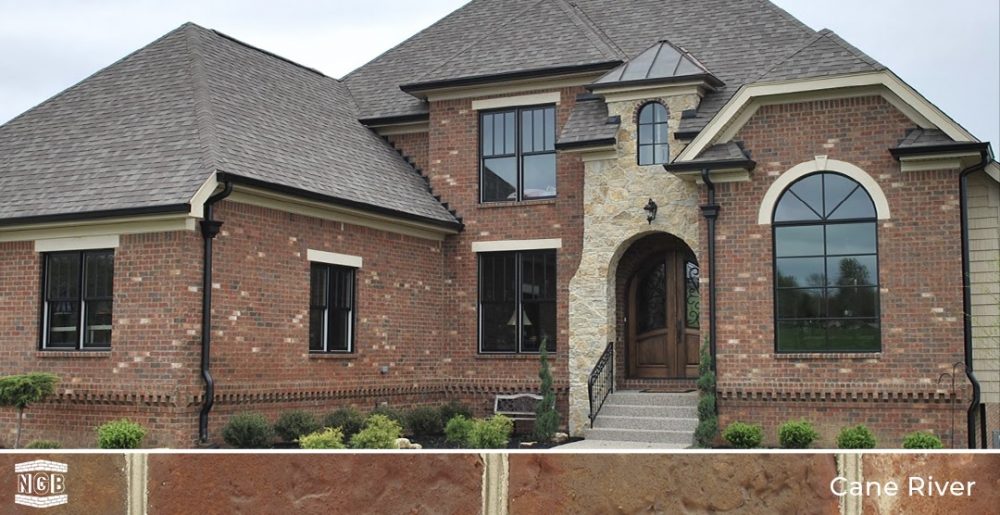 Keep Patterns Simple – With the natural color variation found in both brick and stone, as well as inspired multi-shade offerings, combinations of the two have the potential to appear overly-busy if not balanced well. If you are choosing a multi-colored brick or stone option, keep the other material more toned-down and simple. Two overly active materials together will be distracting, but the right pair adds undeniable curb appeal. In this charming exterior (below), the multi-colored stone veneer plays off the more traditional brick coloration for an attractive appearance that's anything but boring.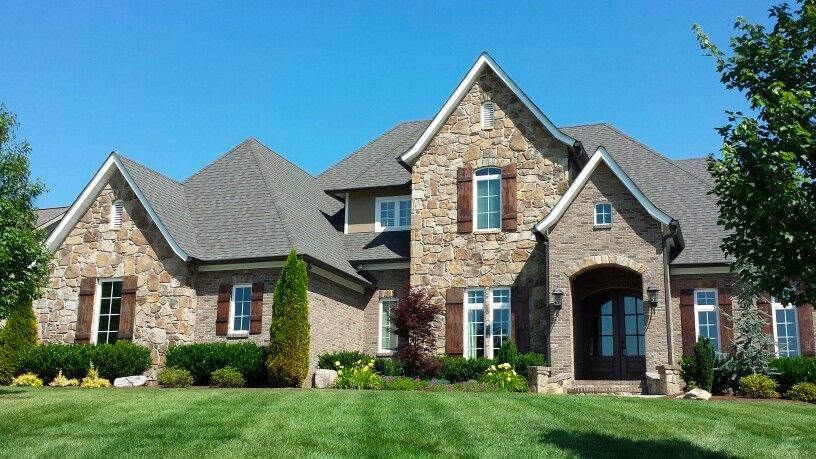 Design Focal Points – As you look for ways to incorporate stone and brick together, you can create focal points that will allow you opportunities for savvy combinations. Columns, gables, and arched entryways are all architectural features that contain natural stopping points and visual cues for a new material to be used. This stately Cottonwood brick home (below) utilizes the column bases as the perfect chance to add a touch of natural stone within the finished layout.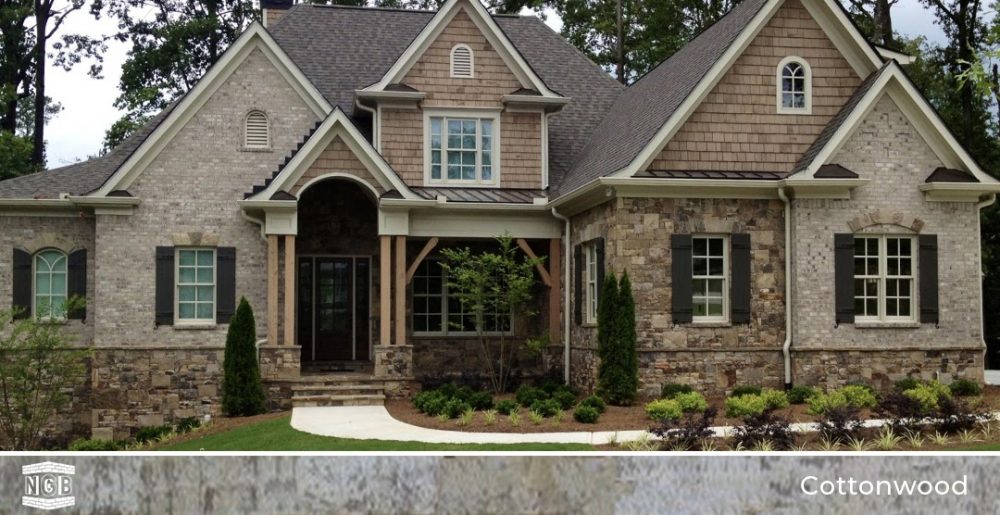 Stone Size Selection – Generally speaking, the size of brick used for home exteriors will not vary much between different color options. However, stone options have a wider size variation, which can be used for different effects. If you have a more traditional looking brick home, a larger chopped, mosaic, or field stone will naturally add rustic appeal. If you have a more modern or contemporary brick home, the sharper angles and edges of a ledgestone or cut stone will enhance a more polished appearance. We love the use of large stone along with brick!
These are just a few of our favorite uses of brick and stone veneer, but there are so many other gorgeous pairings just waiting to be discovered. When you visit our Cartersville and Cumming showrooms, we can go through samples to create a match that will make your home shine with natural beauty. Let's put this dynamic duo to work for your home!