Although brick has been used for centuries to create some of our most timeless and long-lasting structures, builders and homeowners continue to find inventive ways to design with this tried-and-true material. With inherent texture, depth, and organic appeal, the wide-range of brick color options allows gorgeous exteriors – and interiors – from traditional to eclectic to be created with ease. For classic, yet exciting, visual appeal, here are some of the current brick trends that are making inspired buildings shine with style:
Thin Brick – Innovative thin brick and the continued advances within this category benefit chic residential and commercial projects everywhere. Thin brick adds all of the classic beauty and can be applied to almost any existing wall without the added weight. This lightweight version allows the easy-to-install thin brick to be used in many creative applications from backsplashes, fireplaces, columns, and more. This gorgeous, show-stopping ceiling was created with Ironworks Thin Brick (below) for an unforgettable dining room.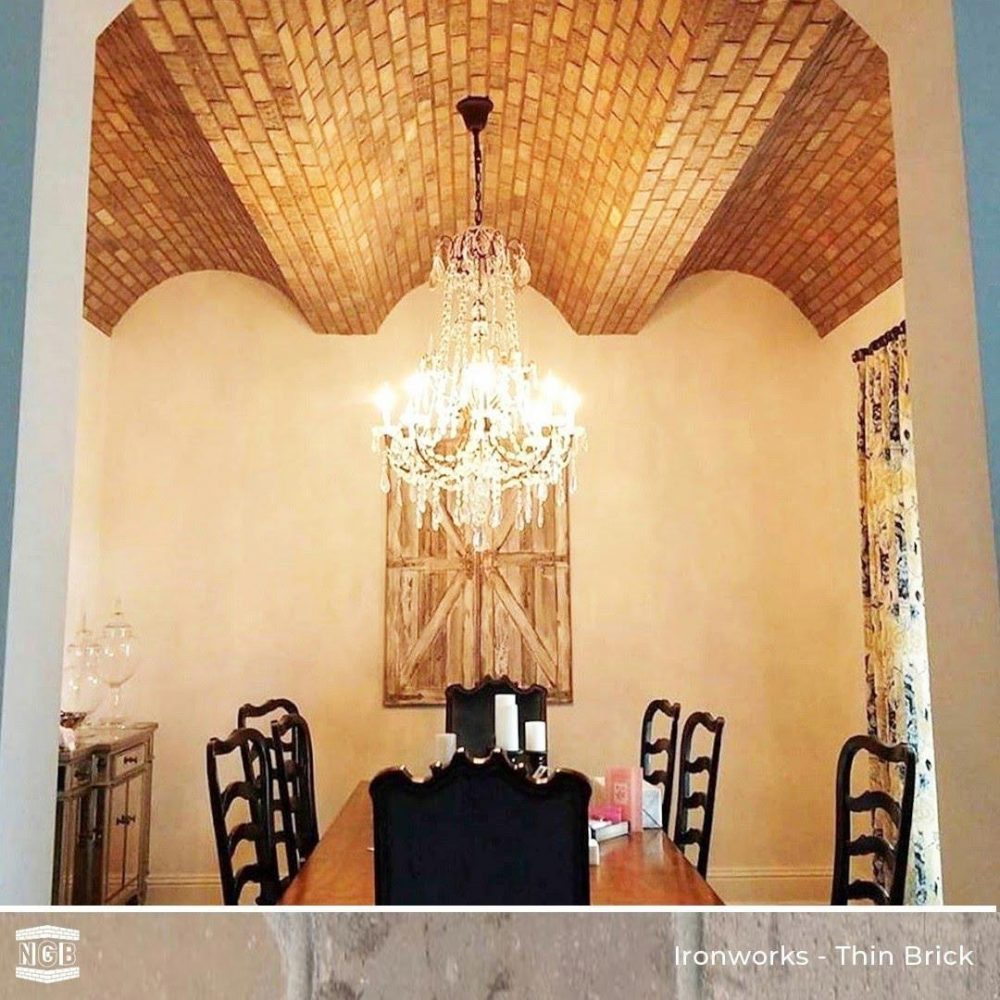 Geometric Patterns – Throughout the home industry, bold geometric patterns are thriving in fabrics, pillows, wallpaper, and furniture, and this trend extends to brick as well. Geometric patterns add a contemporary feel to traditional design, and these layouts make brick fireplaces, backsplashes, and even flooring pop! Look at how a herringbone pattern of Ironworks Thin Brick (below) makes this already distinctive foyer with hardwood flooring a unique, welcoming space.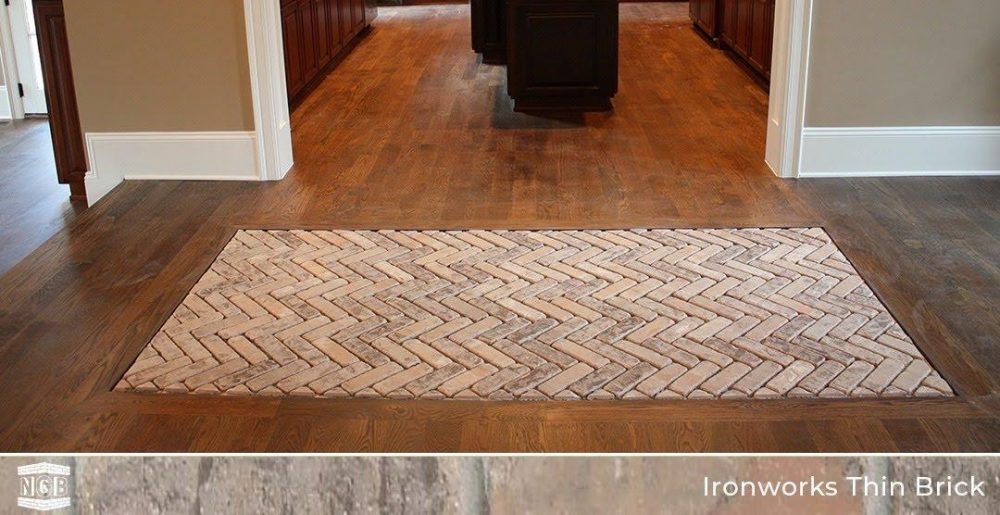 Grey & Off-White Brick – Traditional red brick and red variation will always be familiar and well-received, but softer grey and off-white brick are currently booming in popularity with builders and architects. In addition to crafting modern and contemporary aesthetics, these shades can be used to capture the thriving farmhouse style in chic fashion. We love the use of Winterhaven white brick (below) to create an elevated country design when paired with black beams, railings, and trim.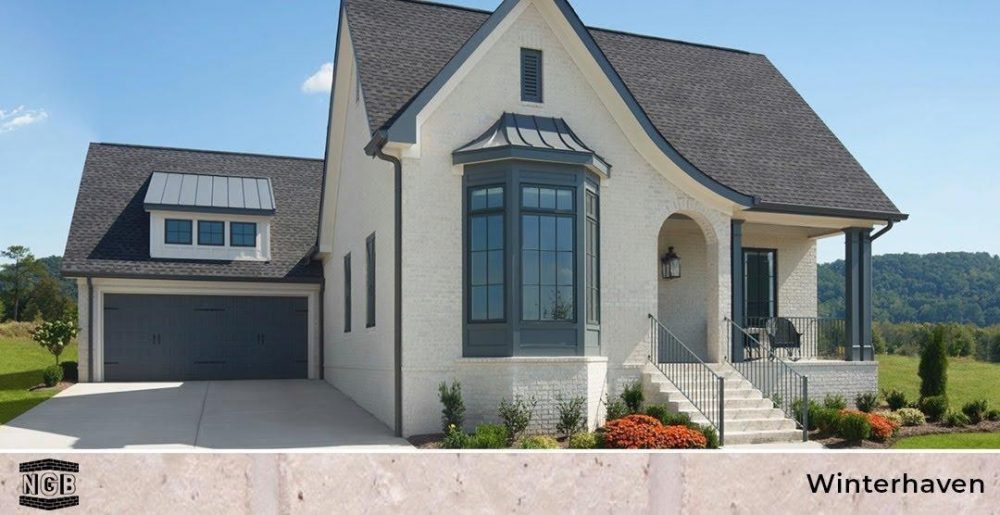 Bringing the Outdoors In – Many homeowners are looking to maximize the space of their properties with the extra time at home this year, and this includes creating outdoor entertaining areas and unifying the transition to the indoor kitchen area. With this remodeling trend, brick plays perfectly into merging the earthy, organic world with our comfortable interiors. The Pathway Full Range Pavers (below) provide the perfect natural material to create an extended culinary experience that connects your brick kitchen elements to your poolside outdoor living patio.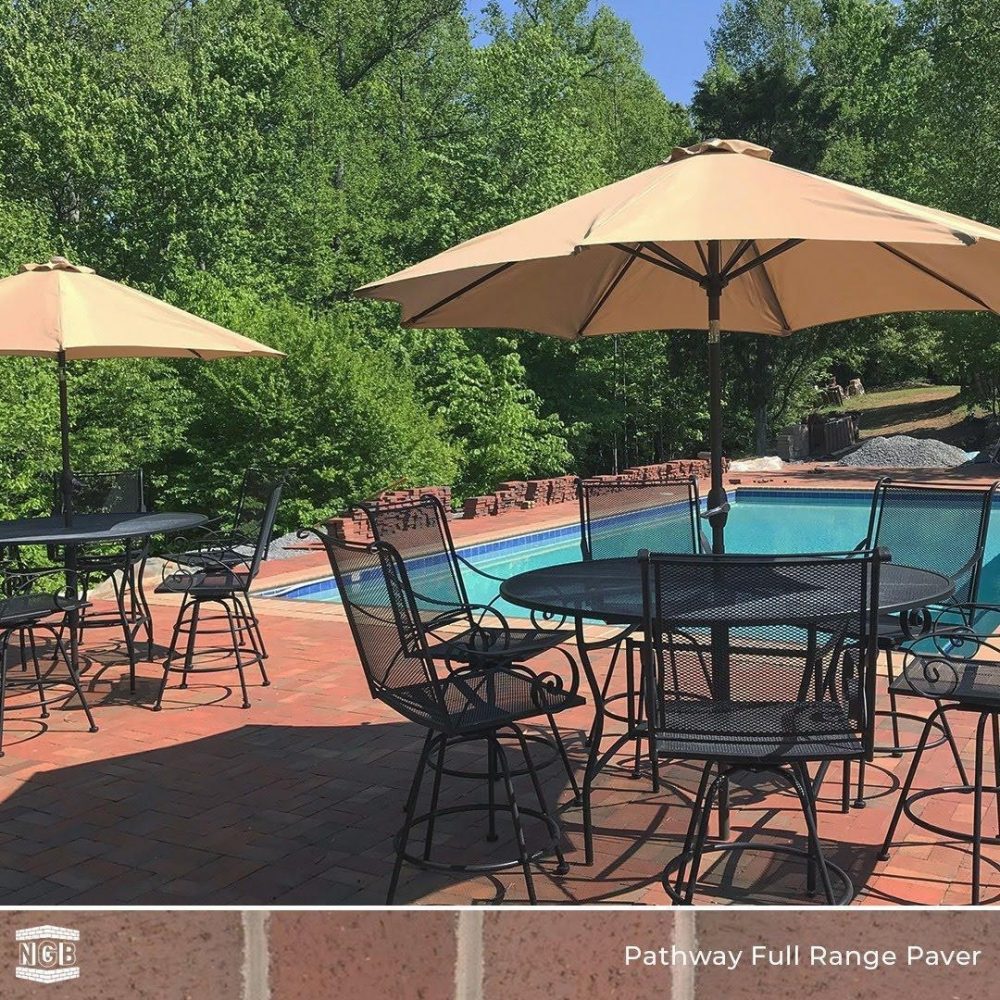 No matter what brick trends you employ to create stunning spaces, the one hundred year lifespan that the National Institute for Standards and Technology (NIST) gives brick masonry ensures that your designs will serve your home for many years to come. Our Cumming and Cartersville showrooms have all of the latest brick varieties and time-honored classics for you to complete your next fabulous project! Visit us today.