No other season highlights our love for a gorgeous fireplace than the winter months when a roaring flame indoors is the perfect response to the cold outside! There's simply no denying the actual warmth that comes from our fireplace, as well as the warmth that's added to our room design with beautiful texture, organic shades, and appropriate depth. Whatever your favorite brick variety and brick layout may be, an eye-catching fireplace will anchor the space where your family and guests spend the most time. Here a few of our favorite cozy brick fireplace ideas:
Rustic Charm – When it comes to creating an inviting fireplace within your living room or family room, you will not find a more classic pairing than traditional red brick and rustic exposed wood beams. Whether you go for a solid red brick variety or a natural mixed red option like this Ironworks thin brick (below), your chimney will pop against gorgeous stained wood and craft a rustic charm that's as timeless as your favorite winter meals and snacks:
Upscale Appeal – For an elevated look, you can consider pairing a washed brick with vintage distressed appeal with a white mantle, trim, and shelving. Thriving within the popular farmhouse chic aesthetic, it's all about combining our favorite familiar materials and adding upscale touches to achieve the best of both worlds. This English pub brick (below) from our Old Brick Originals line takes an ordinary, relaxed fireplace up a few notches without removing any of the coziness that we crave:
Extended Brick Design – Why should your living room have all the comfort? We absolutely adore the way that the warm, earthy vibe of the Towerbridge fireplace (below) is extended throughout the floorplan from the family space and into the kitchen and dining area. The brick columns, archway, and kitchen backsplash connect the love and ease from our favorite seat on the couch to our favorite recipes, perfect for long winter days full of favorite movies and scrumptious snacking!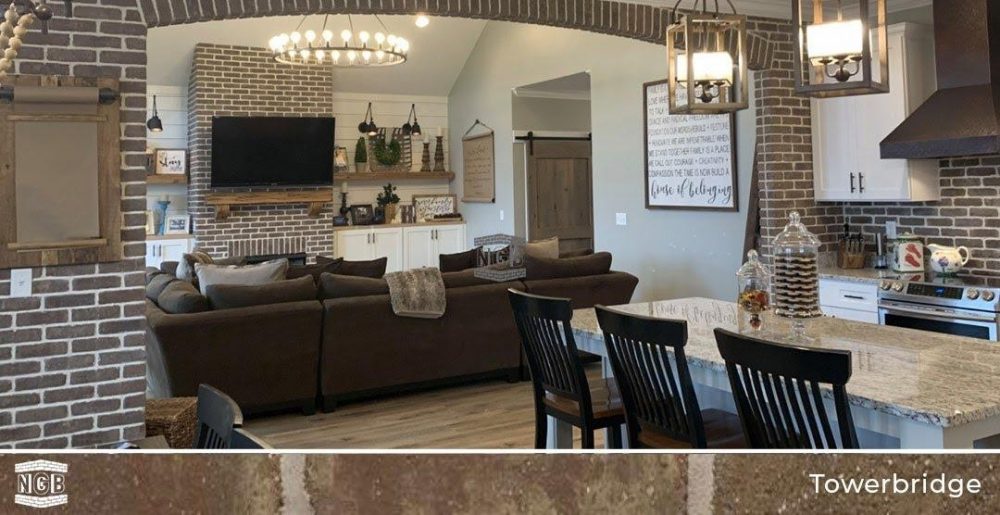 Outdoor Living – This year is all about maximizing the space at home to keep the family safe and comfortable, and this concept includes our outdoor areas! No one will ever get enough of relaxing by this Mountain Creek fireplace (below) and the balance of cool air and toasty flames. Consider an outdoor brick fireplace as an extension of your cozy interior. It's a great way to make your exterior living spaces as inviting as they can possibly be, making it more enjoyable and spacious for the times that you have a full house.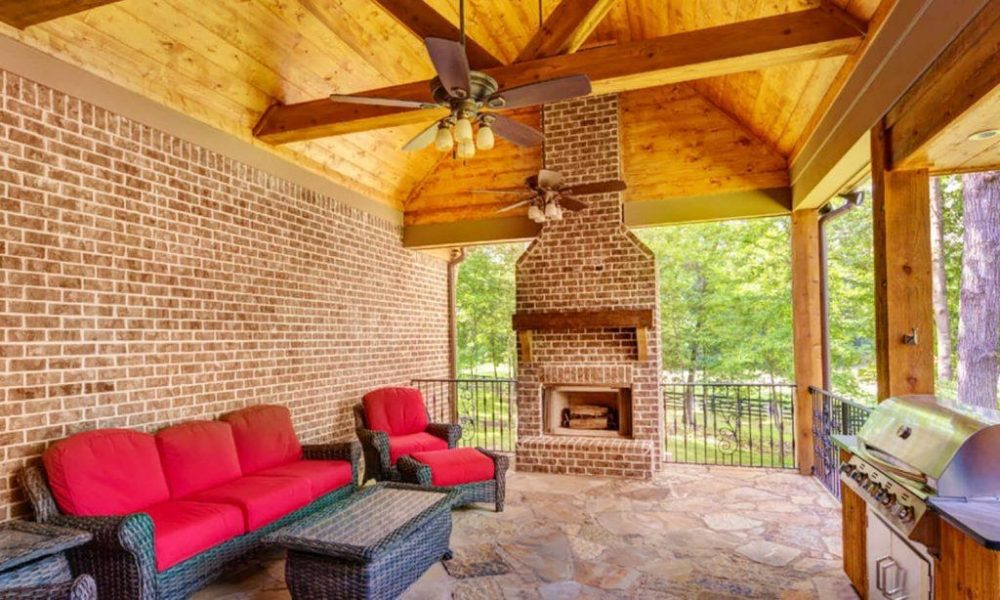 There's more than one way to design a cozy brick fireplace and our website has all of the stunning products and inspiration galleries for you to explore. Once you have your favorite ideas, visit our Cartersville or Cumming showroom and our brick experts will help you bring your vision to life!