When designing inspired kitchens and bathrooms, it's important to select gorgeous materials that can support your preferred design scheme and handle the moisture conditions that these rooms experience. In addition to being long-lasting and easy to maintain, North Georgia Bricks products are only mildly porous and contain no living nutrients. Thus, our brick is not only inherently beautiful but also inherently mold and mildew resistant since these products trap minimal moisture! As you brainstorm your favorite design vision, make sure to consider these fabulous ideas for brick accents in kitchens and baths:
Brick Backsplash – A kitchen backsplash is the perfect opportunity to inject an added touch of texture and color into a culinary space. We love this use of Ironworks thin brick (below) for an exposed modern backsplash that appropriately contrasts the weathered wood cabinetry. In addition to adding a natural, timeless feel, the brick adds dimension and visual interest without overwhelming the kitchen layout: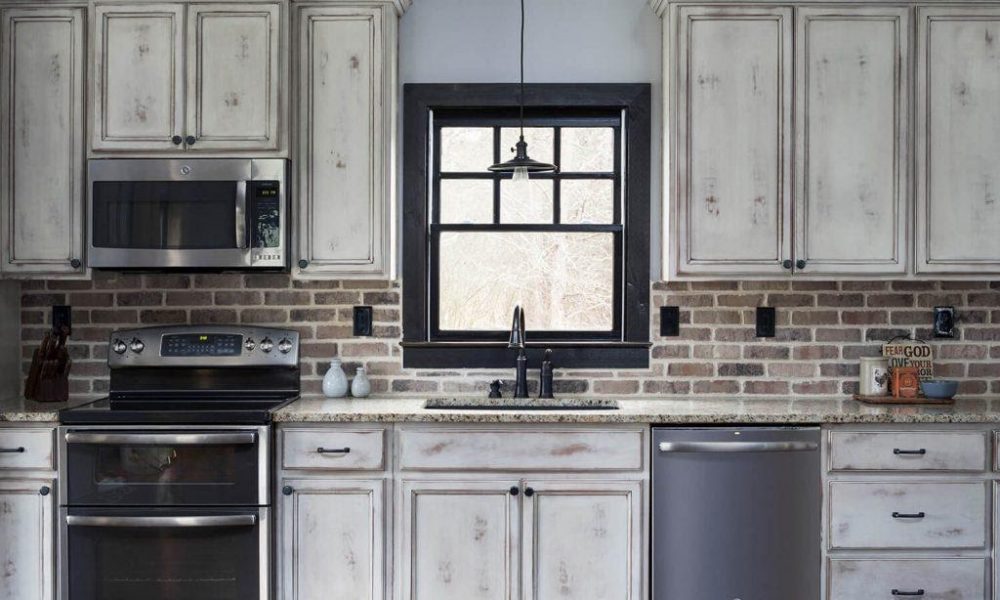 Brick Archway – Similar to using the texture of brick for a kitchen backsplash, you can use brick for one of the other major kitchen design elements to create undeniable appeal. We feel that this Peppermill brick archway (below) over the range and oven is perfect for creating a charming café vibe.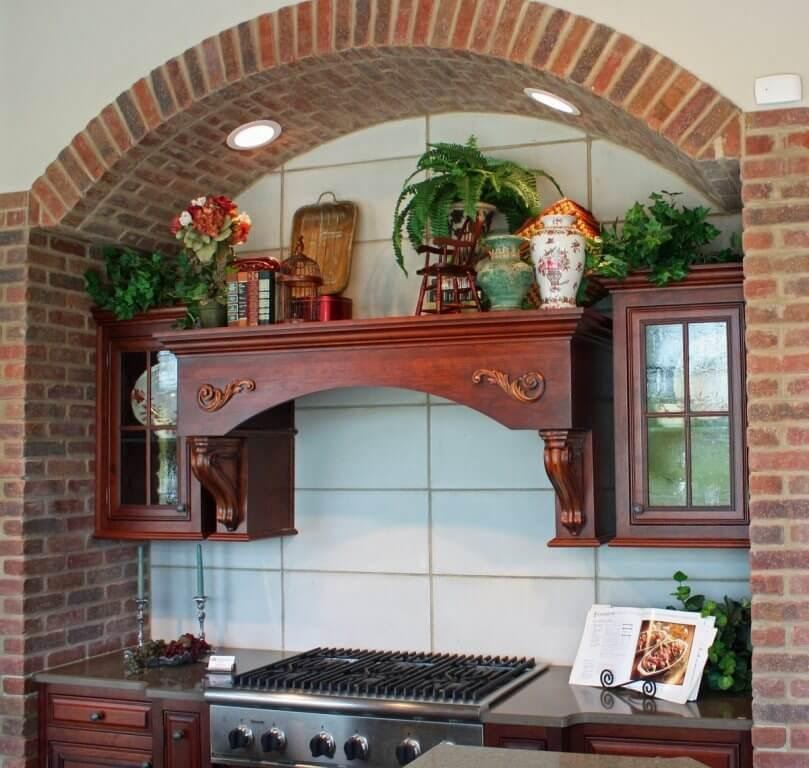 Just like the care and skill that ingredients are treated with when preparing delicious dishes passed down through generations, this use of brick showcases the time-honored, handcrafted brick masonry of skilled artisans. You will love cooking cherished family recipes in this space, framed by the warm tones of a classic brick architectural feature!
Brick Accent Wall – To complete a stylish bathroom in your home, a hip brick accent wall might be just the feature needed to elevate an otherwise ordinary space. This simple Botany Bay accent wall (below) adds enough engaging texture and tones to make this bathroom feel like it lives in a cool city restaurant or boutique hotel. Add your favorite light fixtures, mirrors, and vanity, and instantly your bathroom feels more fashion-forward without forcing it or copying the latest trend: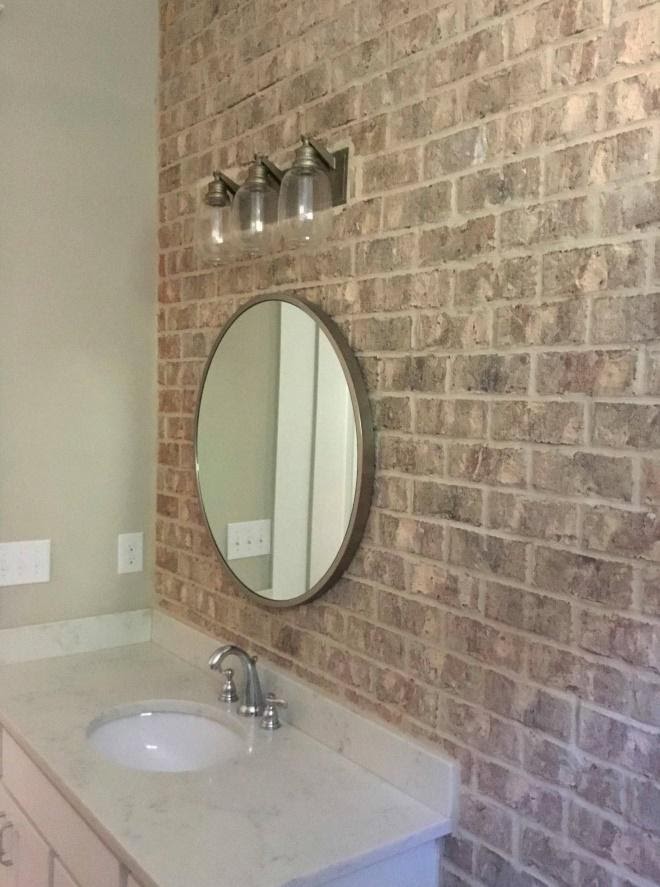 Stone Accent Wall – Did you know that North Georgia Brick also provides homeowners and builders with striking stone products? In fact, this Ledgestone accent wall in color Canyon Ridge (below) can instantly transform a master bathroom into a spa-like oasis! With smooth texture to compliment the natural, irregular "stacked" stone look, this tranquil design focal point is as relaxing as it is eye-catching: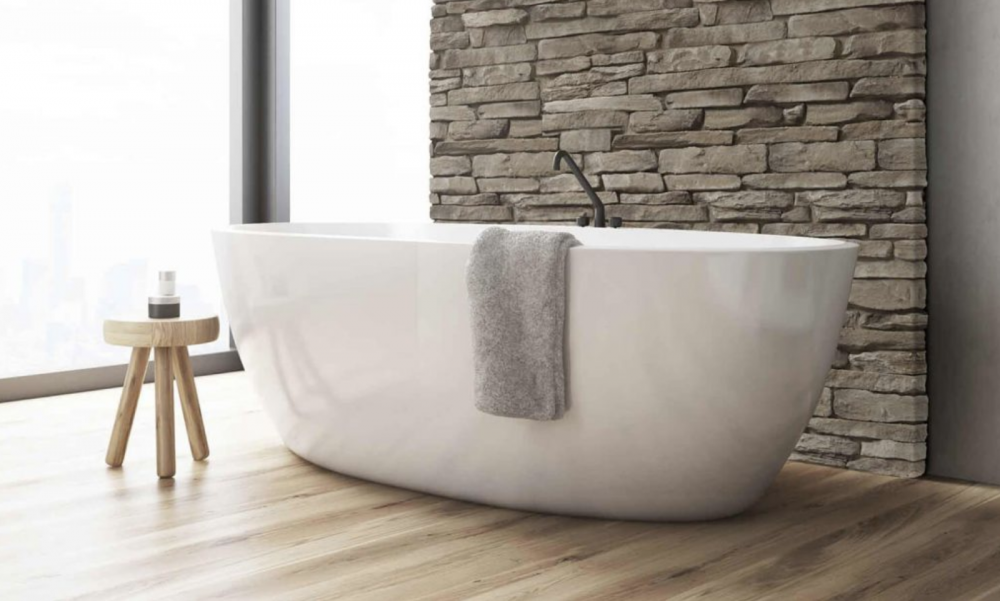 For even more stunning brick kitchen and bathroom inspiration, our North Georgia Brick Pinterest page features incredible ideas that will spark your design creativity. Make sure to stop by our Cartersville or Cumming showrooms to ask our brick experts all your questions and begin budgeting your dream remodel!