Although traditional, brilliant red tones are the first shades of brick that typically come to mind, North Georgia Brick products come in a wide variety of organic and painted colors which allow for vast design capability. As many builders and homeowners craft unique spaces with brick, the rise in popularity of white, white-washed, and off-white brick cannot be overlooked! These bright varieties are perfect for crafting modern, contemporary, and industrial aesthetics, including the thriving farmhouse-style exterior.
Whether it's an all-over, uniformly colored white brick or a distressed, white-washed brick, the combination of the color white with brick adds undeniable luxury, elegance, and coziness. As you explore attractive brick options on the North Georgia Brick website, you can refine your search by color! On this page of white and gray brick search results, you can browse through the brightest white brick options and the various levels of white-washed brick options. No matter which gorgeous style catches your eye, here are some of our favorite exteriors using white brick inspiration:
Winterhaven – Our top-selling white Winterhaven brick (below) is the brightest white brick in the North Georgia Brick palette and is ideal for enhancing chic appeal. Whether you want to make a relaxed rustic home feel more upscale or solidify a sleek, modern aesthetic, these solid white bricks are perfect for creating a stunning look that still provides a comforting vibe:
Botany Bay – For added visual interest, artful distressing, and a vintage feel, we love the use of white-washed brick such as Botany Bay (below) to add incredible character. The distressed brick effect provides multiple flecks of color that can even make it easier to match stone and brick together. Look at the seamless juxtaposition of materials in this stand-out exterior that showcases a timeless touch: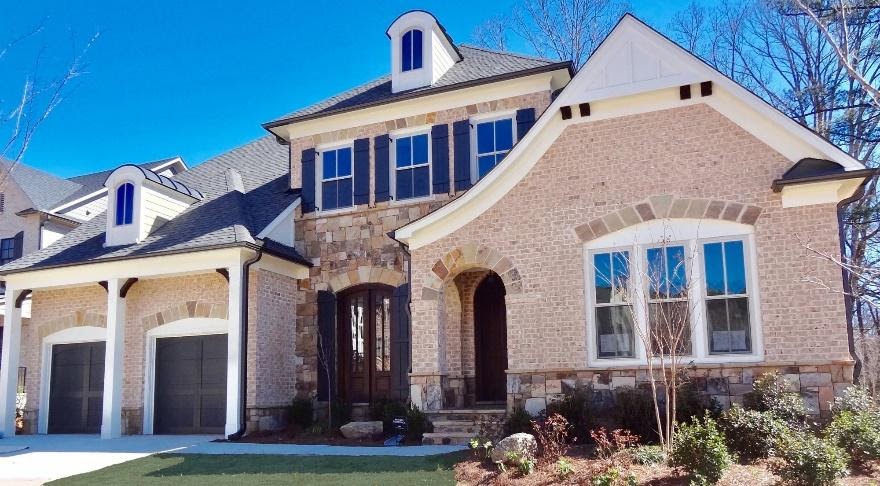 Grand Bay – One of the biggest benefits of using white brick is the effortless ability to create contrast within a design. We can't get enough of how Grand Bay white brick (below) is paired in this exterior with dark beams, columns, and trim. Brighter brick styles work perfectly with high-contrast darker paint colors such as black, navy, forest green, or the dark gray used for this charming home:
Magnolia Ridge – Even prominent white flecks of paint on mostly red brick can help you complete an elevated vision for your home. White paint patches help achieve greater visual texture while allowing the deeper red tones to shine through underneath. Magnolia Ridge brick (below) is perfect for capturing this slightly antique visual that can suit a variety of home exterior styles: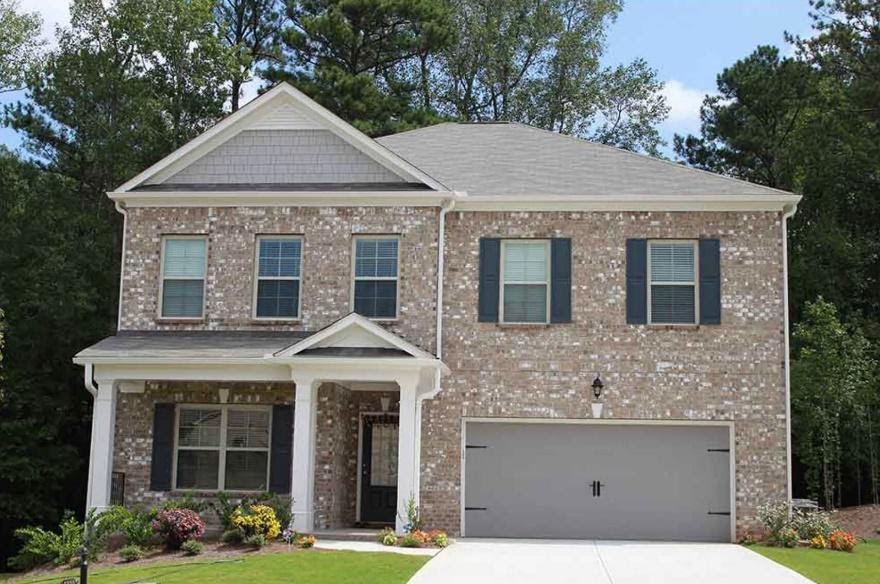 With even more impressive white brick varieties such as Bradford Hall Tudor and Nottingham Tudor, we have all of the options that can brighten any type of home. Visit one of our North Georgia Brick showrooms in either Cartersville or Cumming and our brick experts will answer any questions you have for designing with white brick!