As much as we adore the undeniable curb appeal that a charming brick exterior provides, we are equally enamored with the use of brick for luxuriously inspired interiors! North Georgia Thin Brick options are perfect for crafting gorgeous room scenes since they are lighter, do not require a foundational brick ledge, and in some cases can even be installed over existing materials like drywall. You still receive authentic brick available in multiple colors and mixed tones, but simply cut thinner and easier to use indoors. Here are four standout examples of how to use thin brick in combination with your flooring:
Balanced Kitchen – For many homeowners, the kitchen can be the most challenging room to design since multiple elements and surfaces must be balanced harmoniously. Your cabinetry, flooring, countertops, backsplash, and walls must contrast appropriately in color and texture without overwhelming the space. Thin brick such as our Peppermill Thin Brick (below) offers the perfect material to add dimension, and interest to your culinary space effortlessly. The weathered tones and craftsmanship of the brick range cover add an engaging feature that works with the rustic wooden planks perfectly. The brick also balances the white and dark cabinets like a dream: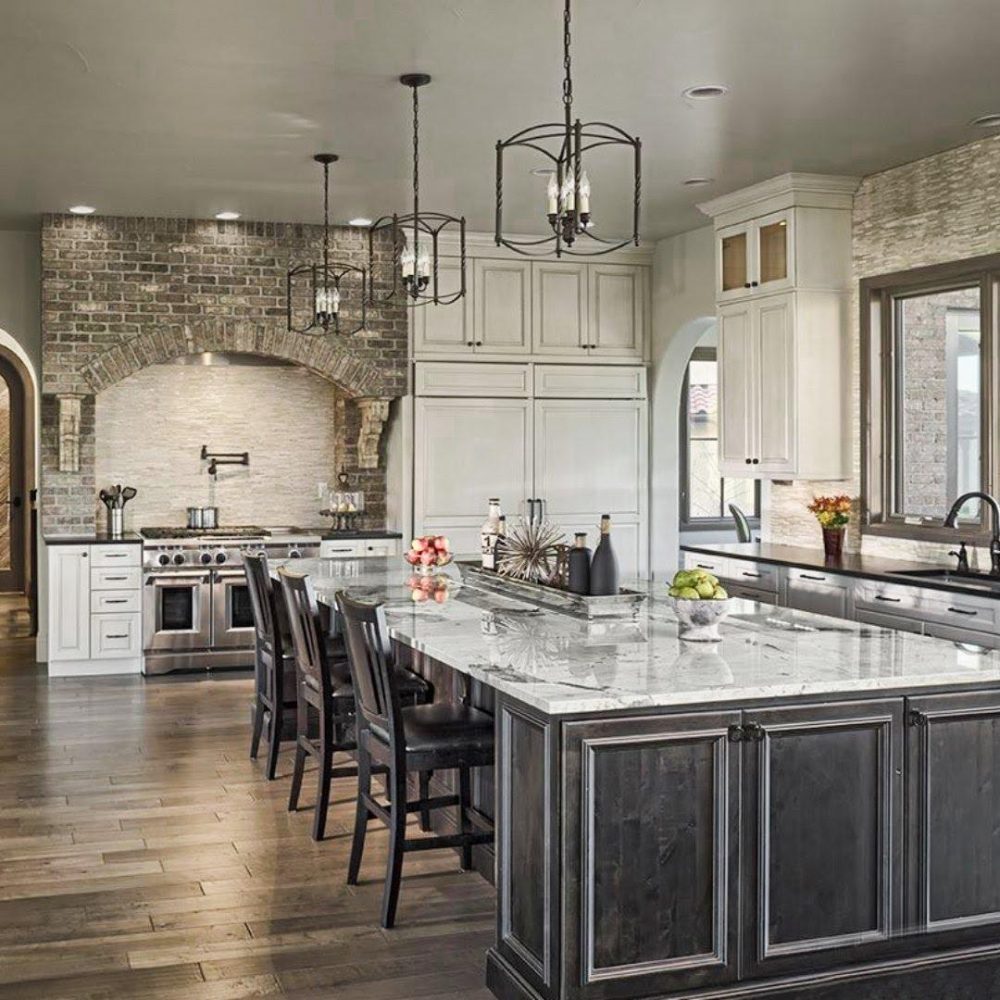 Brick & Natural Light – To make spaces inside the home feel larger and more expensive, it's always wise to use as much natural light as possible to enhance the perspective. Just like using lighter, airy wood floors to create an ethereal effect, you can create an exposed brick interior for a similar dazzling look. We can't get over this breathtaking entryway complete with Ironworks Thin Brick (below) that truly utilizes natural light to perfection! Every time the front door opens, another guest will be blown away by the aura that the brick and hardwood color palette produces: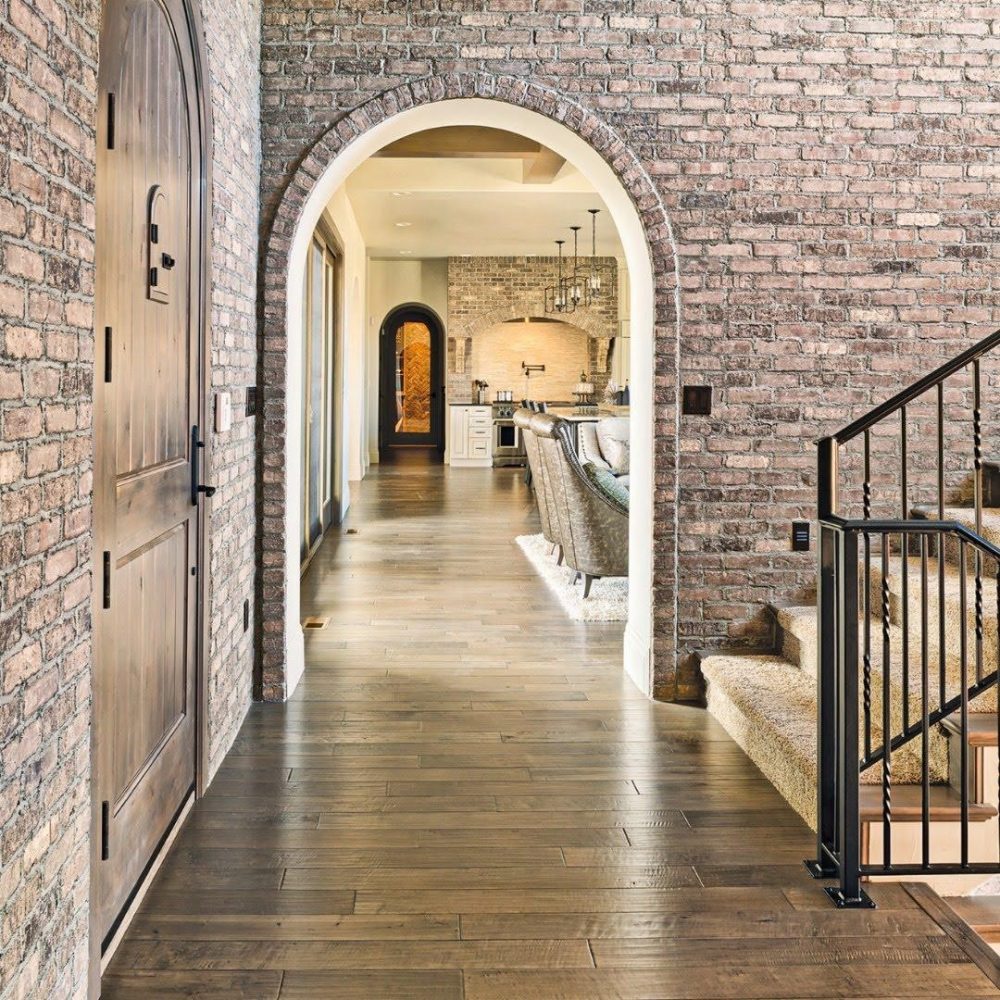 Brick Flooring – Who says that thin brick can only live on our walls to uplift our interiors? You can use North Georgia Thin Brick in your home to create one-of-a-kind organic luxury that handles household foot traffic with ease! Whether you want to create a full foyer with English Pub Thin Brick (top) or a standout Ironworks Thin Brick herringbone inlay (bottom), brick flooring adds another stylish level to a rustic chic interior full of classic appeal: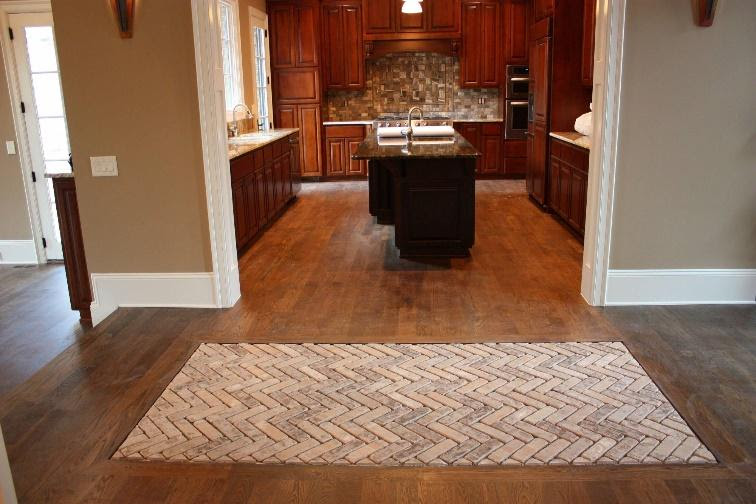 Brick & Stone Combo – The stunning combination of natural stone and brick is often used to create exceptional exteriors, but this dynamic duo looks fabulous inside the home as well. You can even pair materials like stone flooring and Ironwork Thin Brick (below) to elevate a man cave or game room with organic luxury. The defined rhythm of the offset brick pattern and vertical brick borders adds a subtle juxtaposition to the random stone sizes, while the neutral tones of both materials complement the other effortlessly: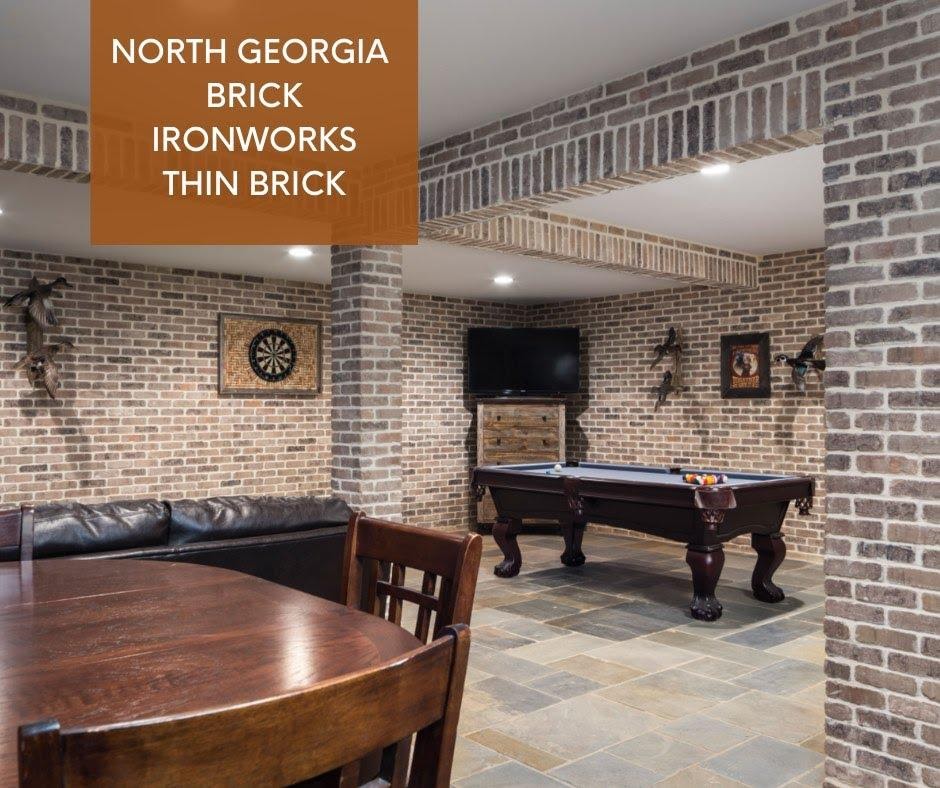 Thin brick can uplift your favorite rooms as an eye-catching wall installation, flooring material, or standout architectural element. Explore our North Georgia Brick Pinterest page for even more fantastic examples of how thin brick and flooring can work together to achieve incredible results!