Just like we love to occasionally refresh our favorite rooms to bring new life indoors, it's fun to also give our exteriors a new touch for revamped curb appeal and updated presence. However, gorgeous North Georgia Brick varieties have a 100-year lifespan and these exteriors can weather the elements for decades without ever actually requiring an update! Painting brick is certainly a viable option for an exterior change, but you may not want to commit to such a permanent move if you aim to preserve the original appearance of your home. With savvy color additions to other outdoor elements, you can pull out the brick tones and mortar to give your home a whole new appeal. Here are a few of our favorite ways to update your brick exterior without painting it:
Pops of Bold Color – When you want to update a bedroom or living room without painting the walls or replacing the flooring, you can switch out the drapery, bedding, rugs, and pillows to add new pattern, color, and visual interest. Why can't this same design principle apply to our brick exteriors! Since most North Georgia Brick and Stone options offer multiple tones and color flecks that are easy to design against, you have a wide color palette to pull from and add an appropriate pop of color that brings a new feel to a timeless exterior.
For instance, simply painting or swapping out your front door, shutters, or trim is much more budget-friendly and far less time-consuming than painting your whole house! We love the way the serene blue door and shutters pull out the complementary tones of Olde World Series Stone in color Pecan (below top) for a relaxing, inviting vibe to this home entrance. If you feel that a bolder color will not fit your subdivision or surrounding environment the right way, you can try a moodier fashion-forward hue that blends better with your landscaping and regional architecture. These sage green shutters appropriately contrast the bright Frasier Canyon Brick (below bottom) of this beautiful home, adding a touch of classic yet trending neutral perfectly: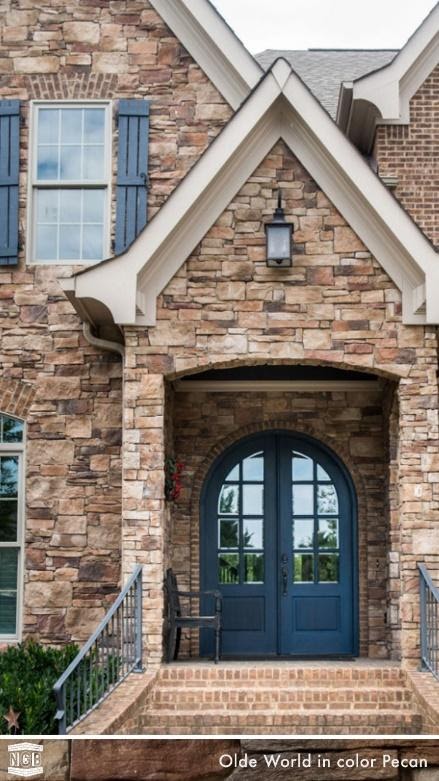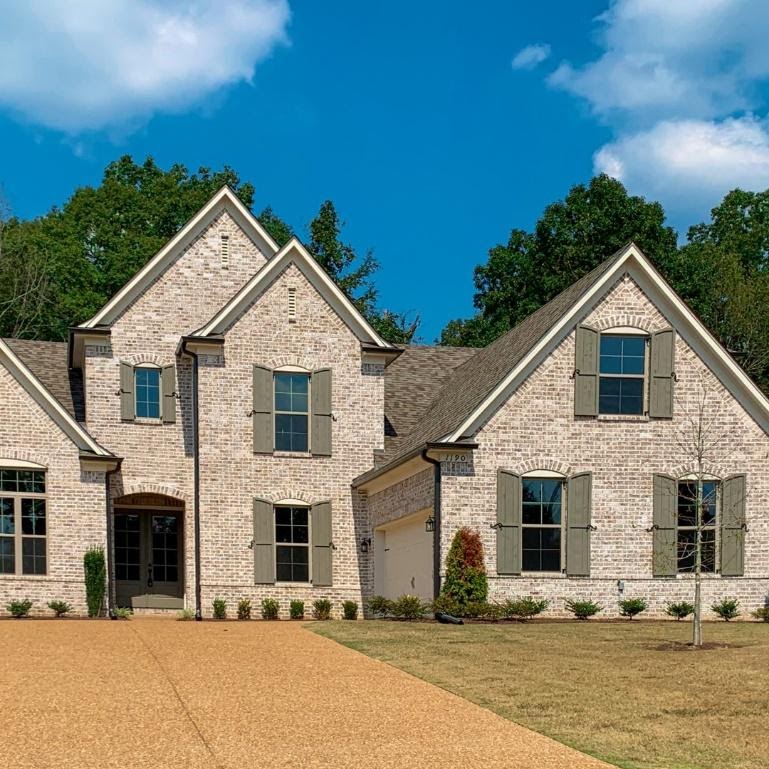 Lucious Landscaping – Made from only natural raw materials with no chemicals or complex components, North Georgia clay brick is sustainable, completely recyclable, and one of the most ecologically responsible building materials available. Therefore, it's no surprise that the earthy tones and organic brick color palette are the perfect components to pair with striking landscaping design and our favorite colorful plant species!
Like a bright, bold clutch added to a traditional outfit, these perimeter rows of flowering magenta bushes immediately draw your attention to the soothing, cream-colored Logan Canyon Brick (below top) for standout curb appeal. If your landscaping budget won't allow for significant plant purchases and installation costs, consider using your favorite hanging plants, planters, and pillars to add some vegetation. The multiple brown shades presented within this Ole Cahaba Brick (below bottom) exterior are the perfect backdrop for the green and pink accents that these plants provide, instantly cultivating a lusher feel to the comforting brick: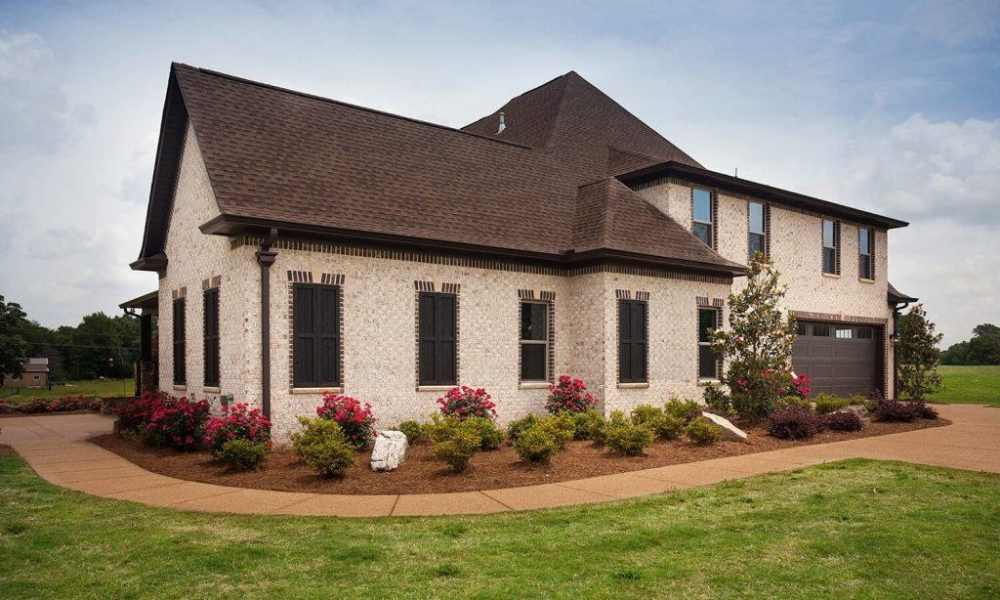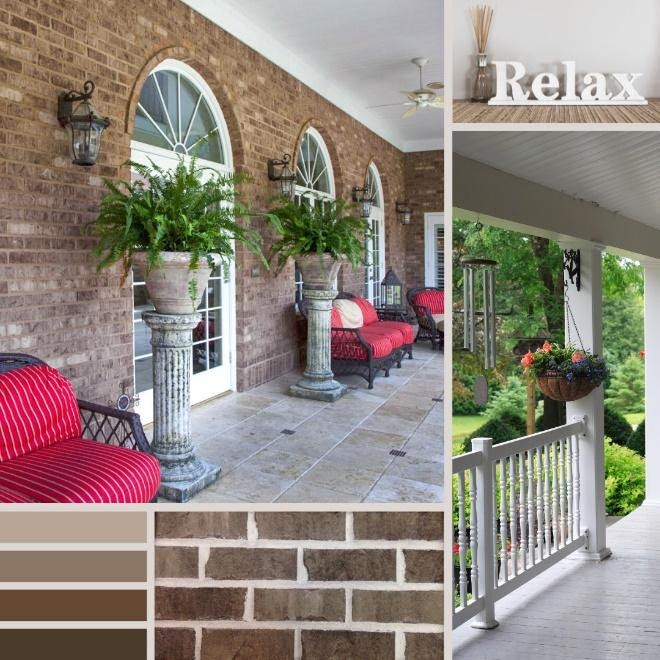 Pristine Cleaning – When the rain has passed and the sun comes out, there's nothing like a fresh wash to make your car gleam as you cruise around town. Although brick structures trap minimal moisture and lack the ideal conditions for the growth of mold, the rainy or snowy seasons can still leave dirt, debris, and residue behind that will mute the color of your home exterior. Rather than make any permanent changes to your brick, follow our quick guide to cleaning exterior brick and restore the radiance to your home that you've been missing! After this Newcastle Grey Brick (below) is thoroughly cleaned, every car that drives down the street will swear that a new update to this home was recently completed. That's simply the beauty of brick:
With a timeless allure and undeniable warmth, brick exteriors are easy to maintain and keep shining for decades. Bring pictures of your brick home to our Cumming and Cartersville showrooms and our brick experts can provide even more valuable suggestions for updating your charming exterior– without painting!