With a distinct textured look that differs from brick, stone, or wood, stucco is another popular home exterior finish solution for builders and homeowners. In addition to completing a more expensive visual than cheaper design solutions like vinyl siding or fiber cement lap siding, synthetic stucco provides greater energy efficiency and durability.
When it comes to choosing between brick and stucco as a building material, factors such as budget, installation, maintenance, and of course style, will all play a major role in the final decision. To increase the value of your home investment and ensure longer-lasting performance, here is a quick breakdown of why choosing brick over stucco can make all the difference:
What Is Stucco? – Traditional or classic stucco is a durable building material that's made from cement, lime, and coarse sand, which is applied directly onto concrete or masonry in coats and dries to a rock-like finish. Modern synthetic stucco, or EIFS (Exterior Insulation Finishing System), consists of a moisture barrier, foam insulation, cement basecoat, reinforcing fiberglass mesh, and an acrylic resin finish that has sand in it to give the appearance of definition, and is applied in multiple layers over plywood or polystyrene.
Style Considerations – Synthetic stucco offers greater customization than classic stucco, presenting a wide selection of colors and textures for home exterior finishes. However, synthetic stucco can develop visible stains due to water damage caused by poor installation, and even properly installed stucco requires regular cleaning and periodic painting to restore the attractive color.
In addition to traditional red brick, there is a wide range of earth tones, browns, grays, pastels, white bricks, and multi-colored styles that allow for vast design capability and will maintain their same color over time. Brick properties are full of rich variance, texture, timeless beauty, and familiarity that always resonates with prospective homebuyers: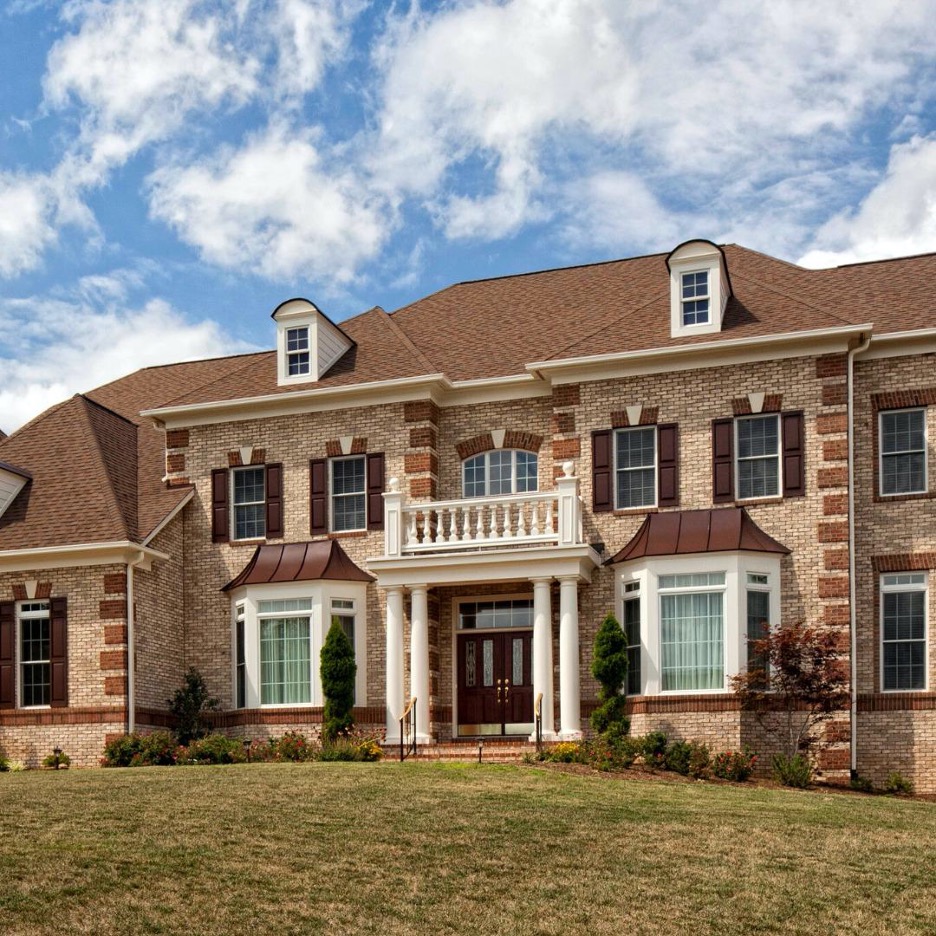 Installation Considerations – While stucco may not appear complex to install, installation can actually be very challenging and will jeopardize long-term performance if not properly completed. Each stucco manufacturer has a different system to install, and your installer may not be versed in every system. If stucco installation is rushed with unqualified workers, there is a significant risk of water damage and other moisture-related problems to your home. Unless the builders, contractors, or applicators can ensure the proper procedure and time allowed for applying the various materials, the stucco will often experience water intrusion and incur costly repairs. Although building with brick will require hiring masonry contractors, the result is a structurally sound home with water-resistant walls that will ensure moisture diversion and premium durability for decades.
Maintenance Considerations – Properly installed stucco will require regular cleaning to remove staining from mud and yard products, as well as periodic painting to restore color over time. Unfortunately, synthetic stucco is prone to cracks and water damage caused by poor installation and can experience insect infestation in certain regions. These costly homeowner problems are avoided with a high-performance brick masonry exterior that experiences minimal weathering, heat damage, maintenance, or repairs over the lifetime of the home. Long-lasting brick will not burn, peel, fade, rot, tear, warp, or dent, making it an exceptional choice as a building material. Although properly installed stucco can last for 50 years or more, most manufacturers cap the warranty coverage around 10 years. By contrast, brick masonry has a National Institute for Standards and Technology (NIST) lifespan of one hundred years!
Financial Factors – Without a doubt, financial factors will always play a role in building material decisions. Although the respective prices of purchasing brick and stucco are comparable, brick will be more expensive to purchase overall. Despite the advancements made in the thermal mass properties of synthetic stucco, brick still boasts the superior ability to absorb, retain, and release heat, meaning it takes less energy to heat and cool brick homes. Since brick is highly fire-resistant and less susceptible to weather damage than other building materials, brick homes receive lower insurance premiums. Brick will ultimately save homeowners money in the long run since maintenance and repairs are virtually none, homeowners insurance is lower, and energy bills are less.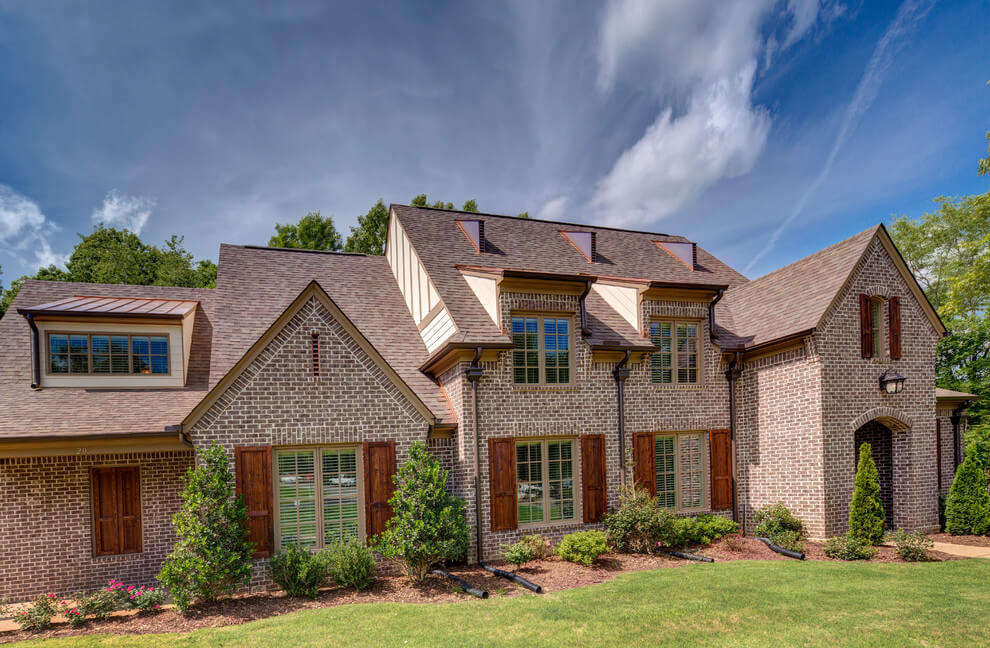 In the end, both brick and stucco will help complete appealing properties that are sure to attract plenty of prospective buyers. However, when it comes to avoiding the risk of water damage and expensive repair costs, brick has a clear advantage as a building material. When you factor in that brick properties retain value better, save money over time, and sell for more on average nationally than comparable homes, it becomes an even more sound investment!
If you are exploring the impressive design possibilities that brick provides, visit our Cumming and Cartersville showrooms to get inspired for your next great build.