As the busy pace of life creates a constant flurry of events and excitement, there's nothing like taking a moment on the front porch to catch your breath and take in the great outdoors. When the calendar changes to the autumn months and breezy temperatures begin to drop, the soothing backdrop of changing colors and cascading leaves provides a natural refresh that is truly a sight to behold. With the holidays just around the corner, now is the perfect time to embrace the spirit and fall into the season!
A gorgeous brick home exterior with an inviting front porch is just begging to be decorated with your favorite touches and enjoyed by the whole family. The earthy, organic color palette of North Georgia Brick options is a neutral match made in heaven with the burnt orange tones, reds, yellows, and browns that the fall season brings to the forefront. For amazing curb appeal and supreme relaxing vibes, here are a few of our favorite tips for creating the perfect fall front porch featuring brick!
Easy Theme Additions – Whether you are decorating for an overall seasonal theme or a specific end-of-the-year holiday beginning with Halloween, look for easy ways to add décor that immediately signals your intent.
Outdoor rugs with fall motifs and fall-themed mats are not only perfect for removing debris such as dried leaves and acorn pieces from footwear, but they instantly add the feel that you're looking for.
Most grocery stores and home improvement stores will sell seasonal wreaths both real and fake that make decorating your front door incredibly easy. If your porch features multiple windows along the length, consider hanging additional wreaths over them as well!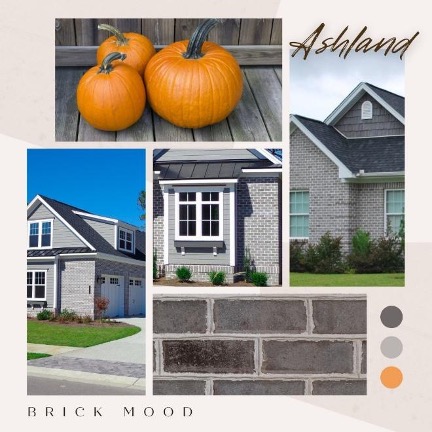 Also, many home goods stores sell decorative wooden pieces with a fall-themed phrase that you can lean near or hang by the front door for a welcoming touch.
Pops of Fall Colors & Tones – As we mentioned earlier, earth-toned brick is the perfect backdrop for pops of fall colors that can be seen from the street. Start by rotating out your black planters for a wooden or metal planter with an orange or yellow flowering plant. You can even consider painting the wood or metal a solid white or distressed white for even more standout interest.
Next, add pumpkins and gourds in shades of orange, yellow, and cream to your porch and front steps. Not only will these items play to your fall theme, but they will brighten a front porch with a roof overhang and welcome guests as they pull into the driveway.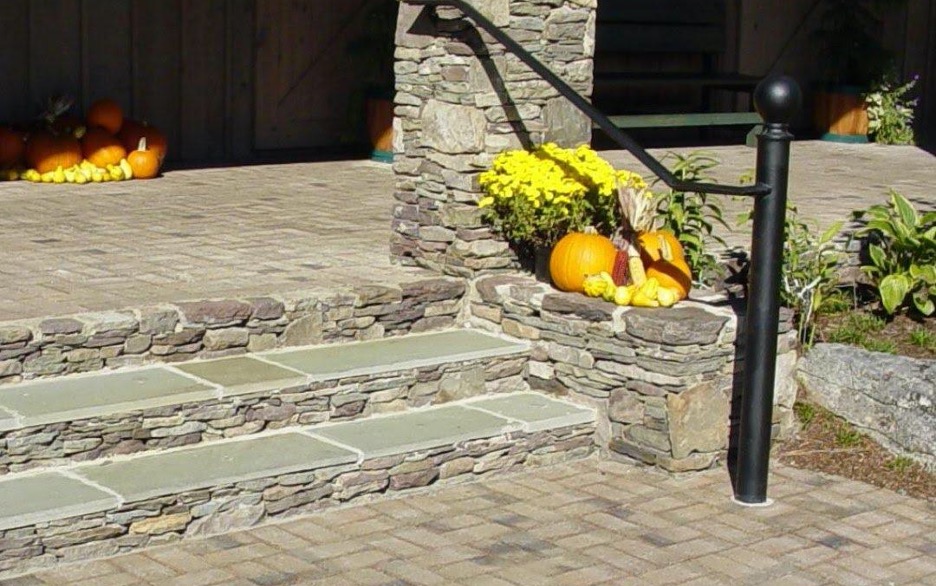 Rustic Décor – You can't go wrong by adding rustic pieces to artfully adorn your brick front porch. Materials like distressed wood and aged metal with extra patina and even rust will give your porch a relaxed, antiquated ambiance. These pieces don't have to cost much at all: This could be a wooden crate from the farmer's market, an old wooden planter, a metal bucket, or even an old wagon or bicycle in the garage. These vintage items can easily be repurposed to hold fall arrangements and are a savvy way to add timeless appeal.
Fall Arrangements – If you are feeling crafty, you can easily create a DIY fall arrangement for your brick porch that doesn't have to be complex, time-consuming, or expensive:
Start with a holder, whether it's a planter, basket, or crate.
Try using 2-3 pumpkins of varied sizes and consider adding a decorative fall plaque, accessory, or even an old broom as an anchoring item.
Select your favorite natural elements such as pinecones, branches, and straw to fill in the arrangement.
Feel free to add ribbons in complementary tones for additional pops of color where needed.
Play around with the arrangement of items until you get the look you like!
Remember, small additions can make a big difference! Make decorating your fall front porch a family fun activity that everyone can enjoy.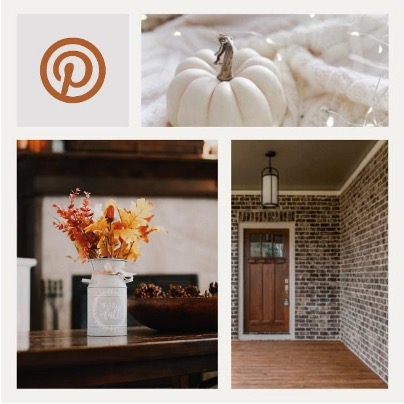 For even more inspiration, explore our Fall Front Porches Pinterest Board for great ideas that will help your brick home usher in the seasonal charm to perfection!