After the fun of Halloween and Thanksgiving, it's time to deck the halls and home for Christmas! This favorite, meaningful holiday for many brings an unmistakable warm spirit to the winter holiday season and our homes reflect the special time we spend together. When it comes to capturing the magical festivities within our décor, the full line of North Georgia Brick products provides the perfect backdrop for our decorations and holiday design vision. With a few savvy touches, your home will be ready to welcome guests– especially Santa – in no time! Here are a few of our favorite tips for decorating your brick home for the holidays:
Brick Fireplace & Mantles – Whether located indoors in the living room or an exterior outdoor space, a gorgeous brick fireplace offers the perfect location for adding seasonal color and texture and will look exquisite when trimmed for the holidays. This standout design element is ideal for personalizing with family holiday heirlooms and favorite framed photos on the mantle, as well as decorative items like snow blankets, metallic accents, and shimmery pieces. Natural trimmings like branches and pinecones, both real and fake, will add a charming touch. Pour a cup of hot cocoa and get a lively fire going in your brick fireplace that sets the cozy vibe all season long.
Christmas Brick Front Porch – For even more space for timeless memory making, as well as creating an inviting holiday entrance for holiday get-togethers, you can easily decorate your brick front porch for Christmas. Every shade of brick will naturally pair with classic greenery and leftover branches from a local Christmas tree farm. You can add red ribbons or appropriate color bows to your columns, railings, and window treatments. String elegant white lights to highlight your porch or consider old-fashioned large bulb lights for premium Christmas nostalgia. Similar to ideas found in our Creating the Perfect Fall Front Porch Featuring Brick blog post, you can easily create a DIY Christmas arrangement for your brick porch by using a planter, crate, or old wagon, decorative accessories, natural elements, and items that you like!
Pairing Wreaths with Brick – If Christmas lights seem like too much work to put up this year, you can easily add Christmas appeal to your brick home simply by adding a few key wreaths to your property. Since many brick varieties such as Cypress Point brick (right) are red, a shade of red, or feature red flecks, a green wreath on the front door instantly creates the classic Christmas color combo. If your brick is a tone outside of the red color family, consider selecting a contrasting wreath color to enhance holiday curb appeal from the street perspective. A glistening white or glittery gold wreath from a home furnishings store may be an exceptional match for your home exterior colors. Additional wreaths for ground-level and second-level windows will provide even more Christmas flair to your brick home– with less work than hanging lights on the entire property.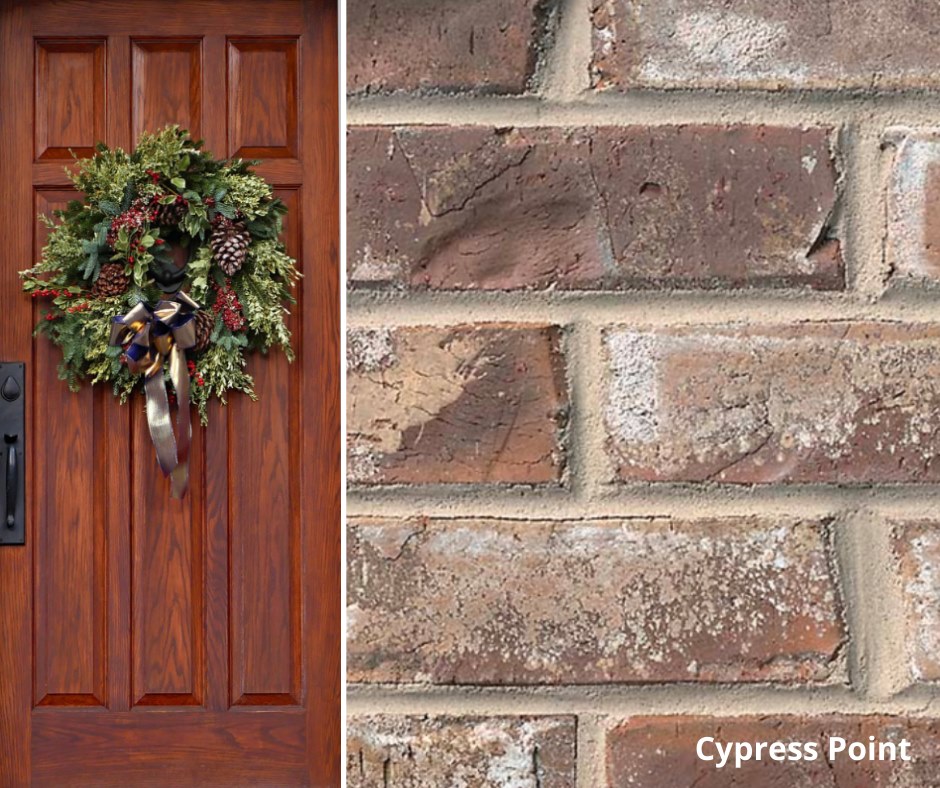 Christmas Brick Mailbox – An attractive brick mailbox is not only an extension of your brick property, but it also presents an exceptional opportunity to extend your Christmas decorations! Whatever holiday theme and components that you select for your entranceway and brick porch, use the same design for your mailbox but on the appropriate scale. You may not be able to hang a whole wreath on your brick mailbox, but a coordinating ribbon or bow with trimming that matches your entranceway will complete your outdoor décor like a dream. If you don't currently have a brick mailbox, you can complete this exterior upgrade over a weekend and in plenty of time before the holidays.
Remember, there's no wrong way to decorate your brick home and the holidays are the perfect time for your family's individuality to shine bright for all to see! Explore our North Georgia Brick Pinterest page for even more seasonal flair, and visit the brick experts in our Cumming or Cartersville showrooms to answer any questions and help complete brick projects before Christmas day – Happy Holidays!