We all know that building with brick is one of the most timeless, inviting ways to add style and personality to your home's exterior. However, brick also offers the perfect material to create dimension indoors, with natural, classic appeal, weathered tones, and craftsmanship that lends incredible engagement. In fact, creating a brick accent wall has never been easier and presents a savvy way to produce more flair, color, and personalization to your favorite rooms! 
Perfect for enhancing visual interest, warmth, and décor, as well as tonal and textural contrast, a brick accent wall can transform an ordinary space instantly.
Whether you want to craft a full accent wall or help uplift a cross-sectional room, transitional space, backsplash, or even wall in-sets, you can complement the look of your stunning brick exterior by making a statement on a wall inside.
We absolutely love the contrast that this brick accent wall (below) produces in this room scene along with the smooth, matte black cabinetry, wood planks, and shiny metallic appliances.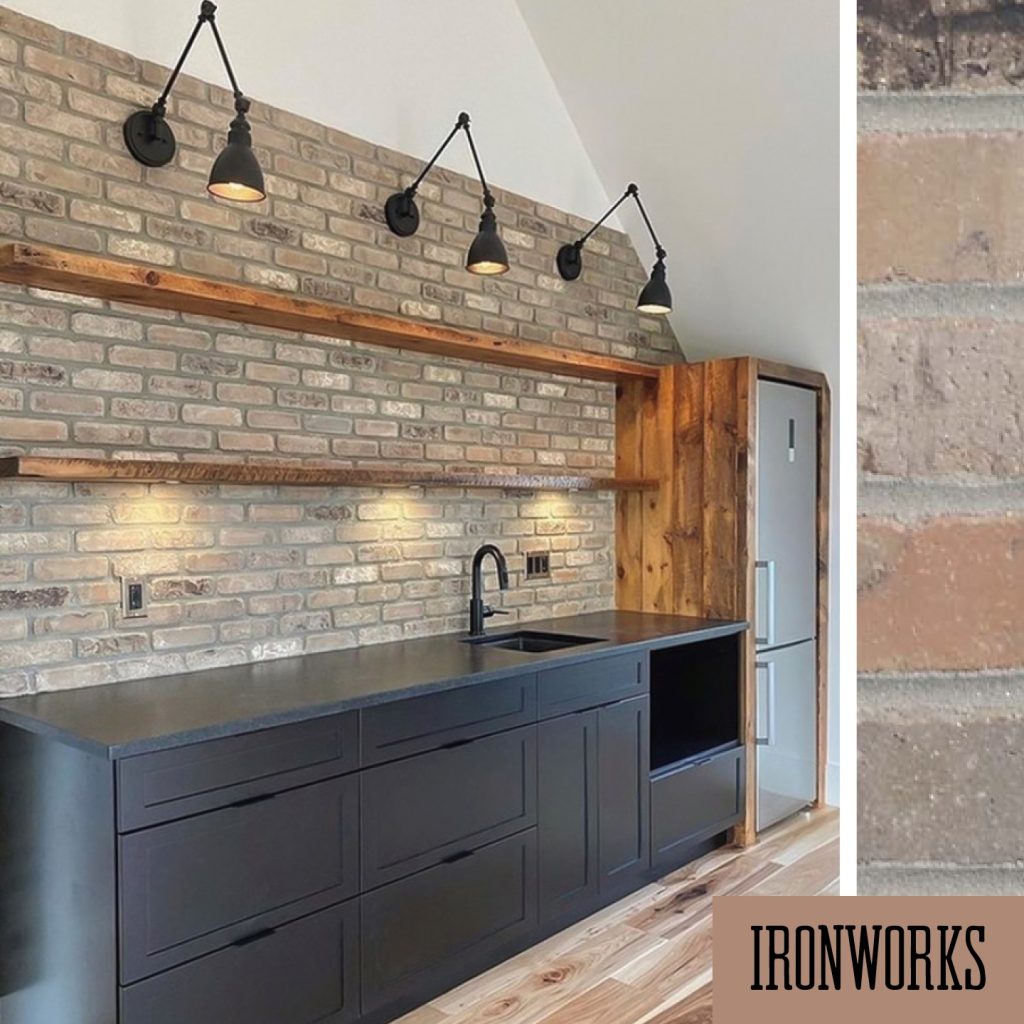 Our North Georgia Thin Brick options are perfect for crafting gorgeous accent walls since they are lighter, do not require a foundational brick ledge, and in some cases can even be installed over existing materials like drywall. Thin brick accent walls can be used anywhere you can imagine: Entryways, mudrooms, bathrooms, bedrooms, mancaves, and more!
Offered in dreamy organic tones, a brick accent wall can help craft a hip, industrial, or city-inspired vibe, or complete a traditional or rustic feel. Just look at how English Pub Thin Brick (left) on this kitchen wall gives actual pub-like appeal, and how Ironworks Thin Brick (right) turns a regular bedroom into a relaxing boutique hotel suite: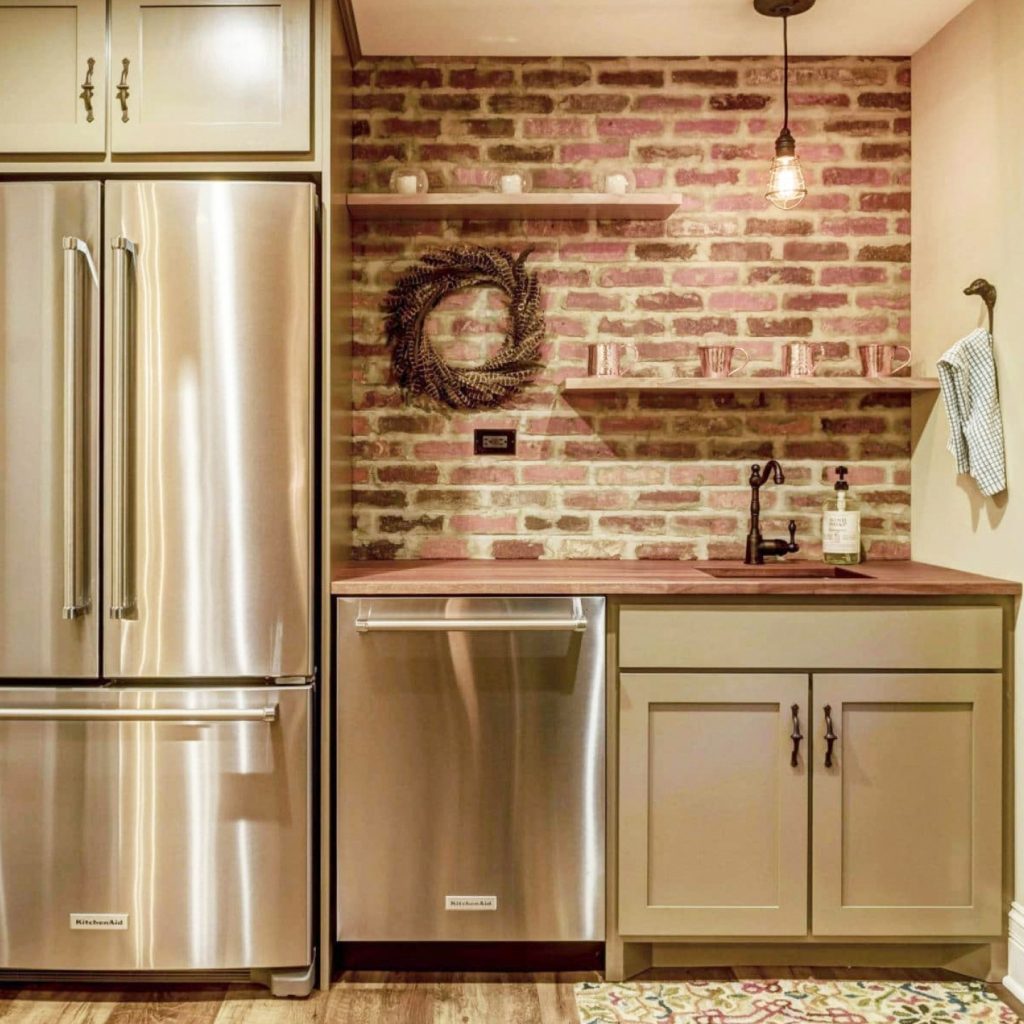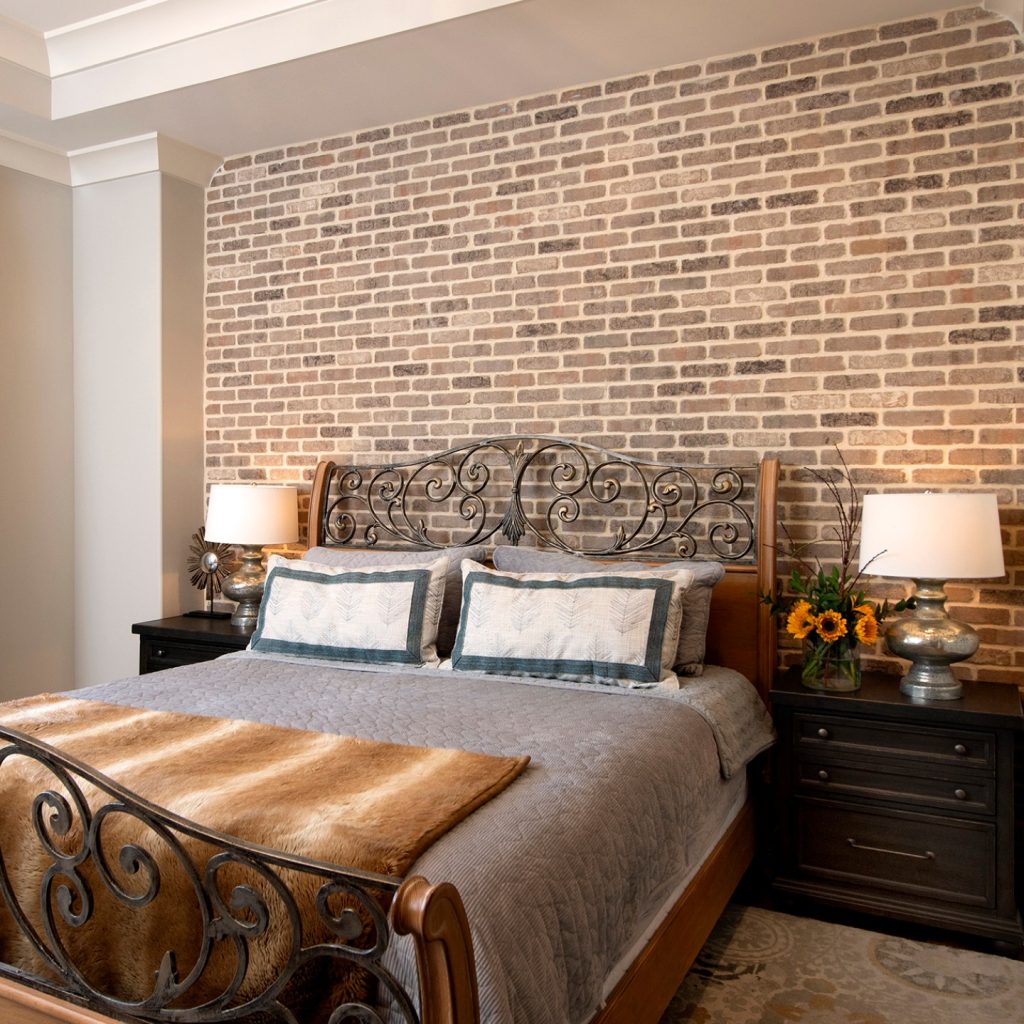 Think of thin brick like a covering, which is lighter in weight and more affordable. If you are building a home from scratch, full-size brick will be used on the exterior and for any interior projects. However, thin brick is absolutely ideal for renovations, accent walls, or when you want to create a one-of-a-kind visual. The best part is, they're DIY-friendly and installing a thin brick accent wall is fast and easy!
Made with the same organic materials as full-size brick, your walls receive authentic brick look and texture in multiple colors and mixed tones, but cut thinner and easier to use indoors. 
While a thin brick accent wall does not have the same fire rating as a full-brick wall, it will still provide more protection than many building products and last for a significantly long time.
The biggest difference between the two is that full-size bricks are typically used to hold up a structure, while thin brick requires a structure to hold it up. If you are getting a home ready to list on the market, a thin brick accent wall allows you to give an older home a design refresh that draws the eye in, adds value to a property, and gives prospective buyers more of the familiar style they prefer.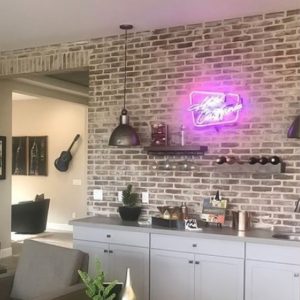 Simply put, brick accent walls can uplift your home as easy-to-install, standout design elements. Explore our North Georgia Brick Pinterest page for even more fantastic examples of how thin brick can help you achieve your interior design vision!