Since the National Institute for Standards and Technology (NIST) gives brick masonry a lifespan of one hundred years, and brick structures can last for up to five hundred years or more, it's no surprise that many of our favorite historical structures prominently feature brick as an exterior building material or are completely comprised of brick and mortar!
Whether restoring an older home or capturing timeless architectural appeal with a new build, North Georgia Bricks products are the ideal materials to use for long-lasting performance and classic organic beauty. From gorgeous Colonial-era homes to grand Tudor-style estates, here are a few of our favorite modern examples of historically inspired homes with brick:
Tudor-Style Brick Homes – Originally brought to America in the late 19th century by architects trained in Europe, Tudor-style homes became extremely popular in the first half of the next century. With often eclectic, asymmetrical layouts, these houses feature signature characteristics such as steep gable roofs, brick exteriors, as well as timbering, masonry, and stonework completed by skilled artisans. High-quality materials and craftsmanship are on full display in Tudor-style homes and comprise a large part of their wide appeal.
With trademark taller, rectangular window panes, this unforgettable property completed with Old Louisville Tudor Brick (below) showcases many of these defining elements to perfection. Additionally, the castle-like front doors combine with a rounded stone archway to produce Medieval-style character that truly brings the historical appeal together: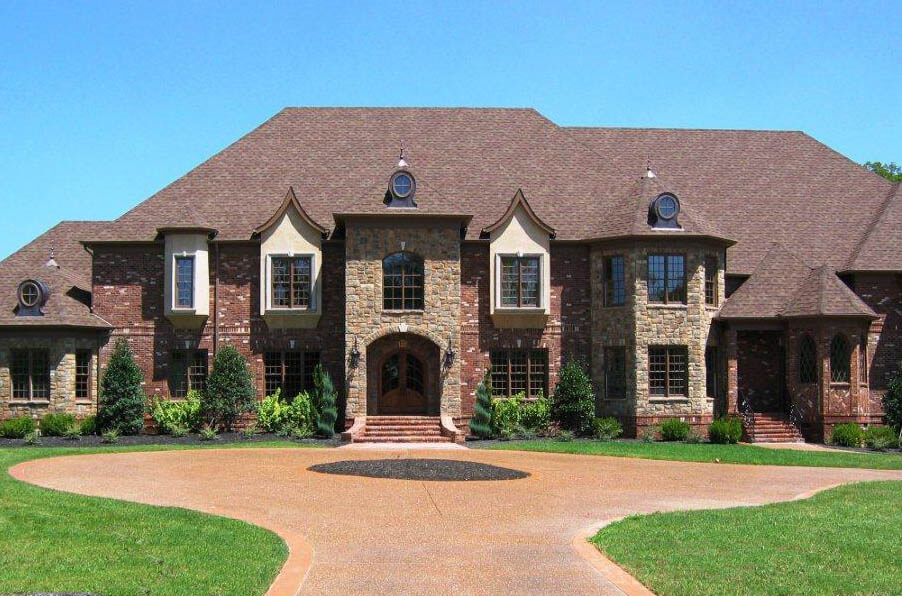 As Tudor architecture originated in areas with colder climates, a front porch to visit with guests on was not a high priority at all. Therefore, you will find that most modern Tudor brick homes also do not feature a front porch and this commonality enhances the formal, more traditional curb appeal. In these cases, homeowners and designers can use flowers, shrubs, and lush gardens to make the home's exterior feel more friendly and inviting. We love how this Tudor-style home completed with Capers Island Brick (below) features the standout half-timbering along with taller windows, a rounded arch front entrance, and plenty of greenery to welcome guests: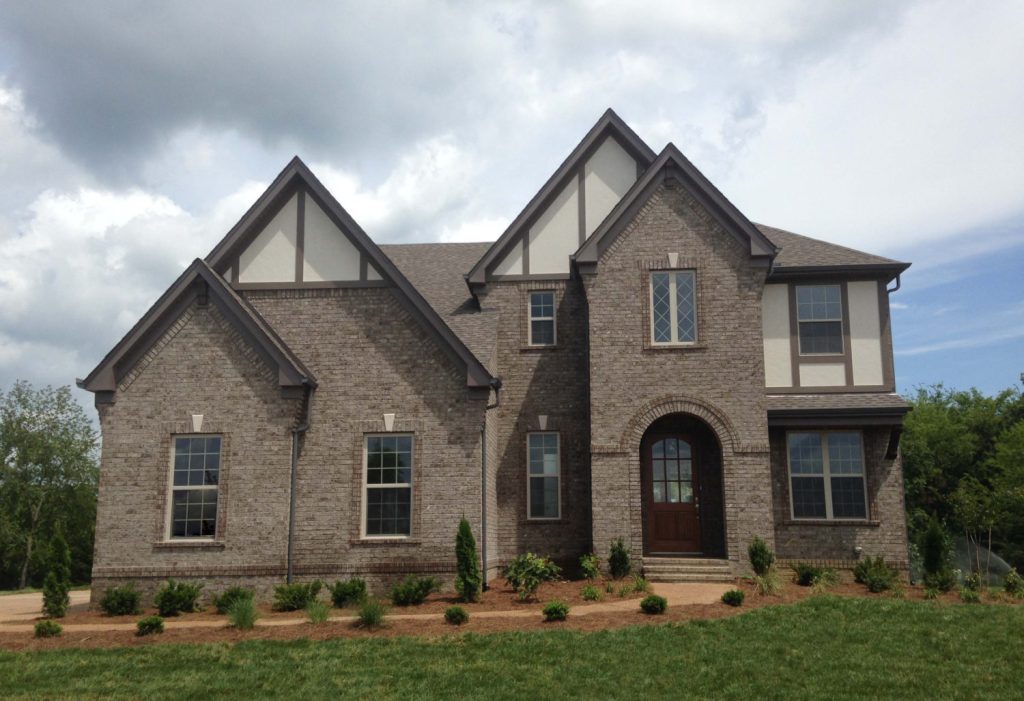 Colonial-Style Brick Homes – Stemming from America's early beginnings, Colonial homes featured double brick wall construction and an elegant, restrained look that still remains popular today. Providing a true sense of classic American architecture, Colonial brick homes are typically symmetrical and feature an uncomplicated layout of two or three stories stacked directly on top of each other. Also, the relatively low ceilings helped retain warmth more effectively and made these homes easier to heat year-round.
Although the Colonial silhouettes are straightforward, geometrically simple squares or rectangles with few flourishes, these exteriors are anything but flat! Just look at this stunning Colonial-style home created with Bradford Hall Tudor Brick (below left) that gives a gorgeous turn on the equally striking traditional Colonial-style brick home (below right):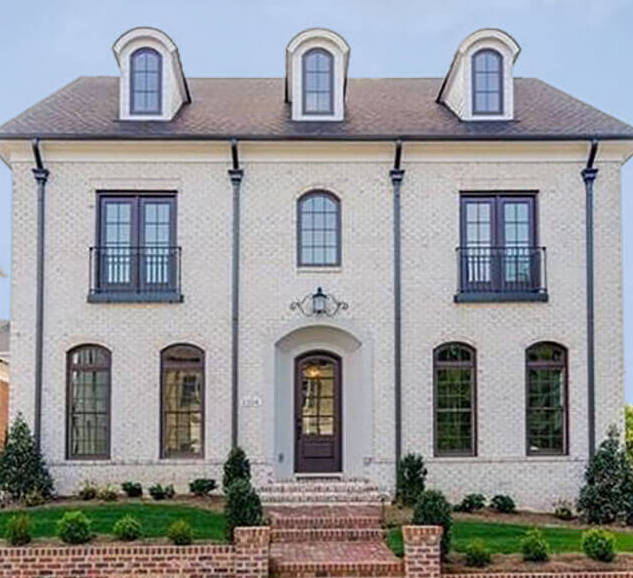 Antique Washed Brick – For instant vintage appeal, brick options with an antique wash showcase a time-worn aesthetic with artful distressing and exceptional character. Whitewashed brick such as Magnolia Bay (below left) provides subtle color underneath and looks exceptional paired with contrasting materials. Even prominent white flecks of paint on mostly red brick like Magnolia Ridge (below right) help achieve greater visual texture while allowing the deeper red tones to shine through. Extremely popular in modern builds, whitewashed brick options are perfect for capturing an antique look!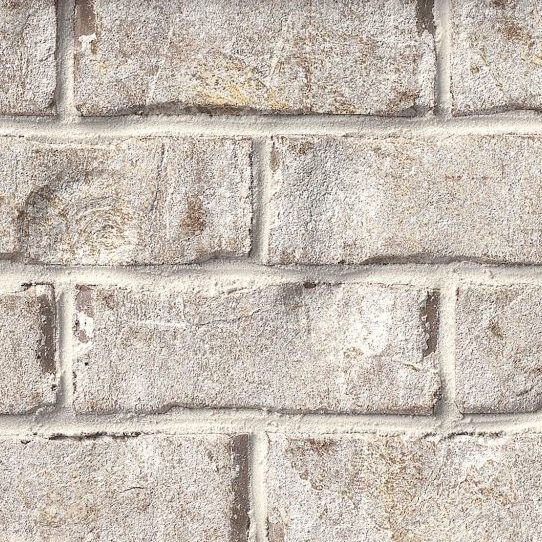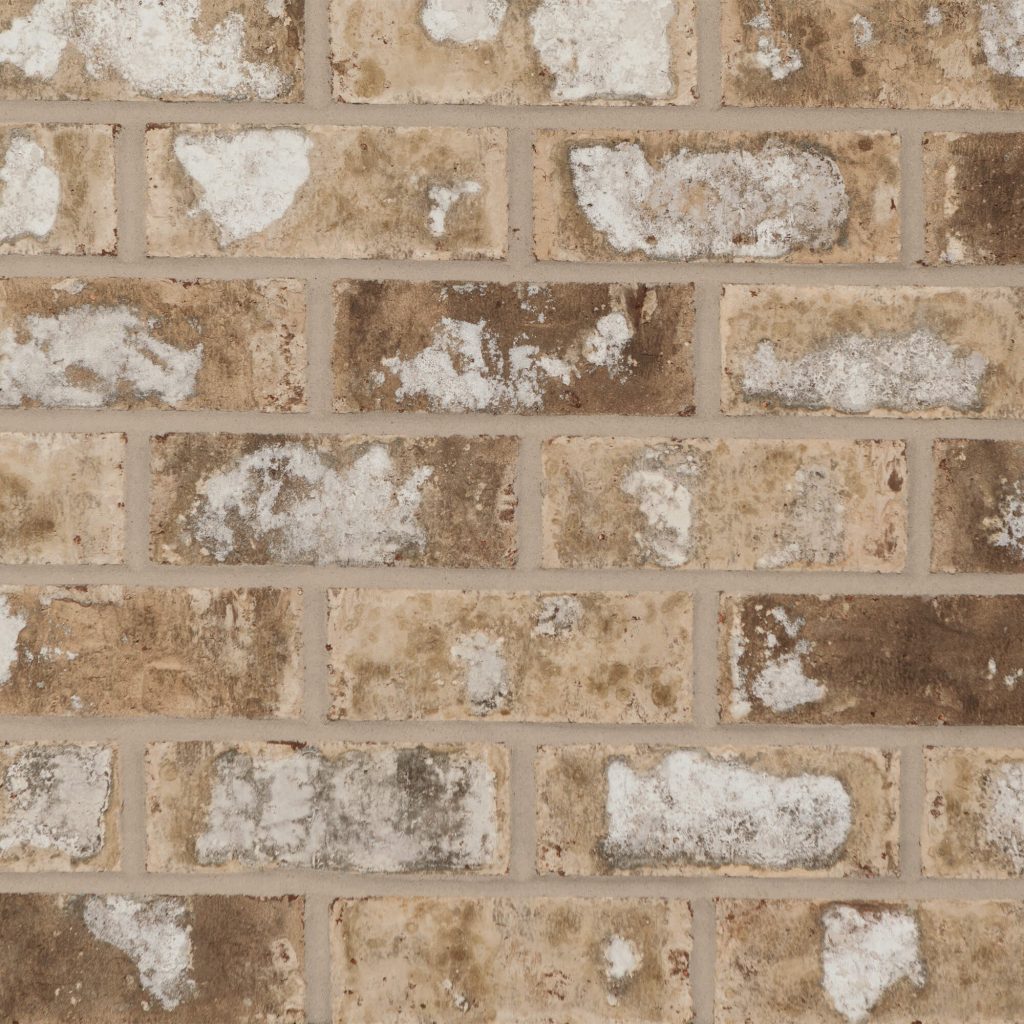 These historically inspired brick homes lend enduring curb appeal and our North Georgia Brick Pinterest page highlights even more examples of timeless brick design. You can visit our Cumming or Cartersville showrooms to explore the brick options in person that will capture your favorite looks from the past!