Nothing rejuvenates a home exterior like fresh paint touches, and nothing personalizes a property like standout pops of appropriate color. Since brick masonry has a lifespan of 100 years, painted design elements and trim within a brick exterior offer the best opportunities for adding a new shade over time!
Whether your exterior features traditional red brick or one of the many dreamy color options in the full North Georgia Brick product line, you can select new paint tones you love that will also work seamlessly with the existing brick. From crafting contrast to balancing hues, here are a few valuable tips for picking the perfect paint color to complement your brick:
Neutral-Toned Perfection – Since almost all brick varieties feature a hint of gray, thus creating the organic brick color palette full of natural, neutral appeal, earthy paint colors are an obvious match made in heaven. Right off the bat, you can explore shades such as cream, beige, grey, greige, sage, bronze, taupe, teal, and even charcoal black for your paint selection. As a rule, neutrals pair with other neutrals so this color family provides a great starting point.
For instance, we love how this deep blue-teal door balances extremely well with the lighter-colored washed-brick exterior (below left). Although this might not have been the first color pairing that comes to mind, these shades have a natural harmony based on their respective earthy, neutral compositions and create a gorgeous, soothing entryway when combined with the honey brown wood beams.
In this eye-catching garage design made with 19th Century Series Stone in Mossy Creek (below right), the burnt orange painted shingles and grey charcoal painted garage doors are pulled from the undertones found in the stone, which also matches the similarly-colored brick masonry. Pulling accent paint colors from flecks and undertones is another smart way to ensure a winning combination!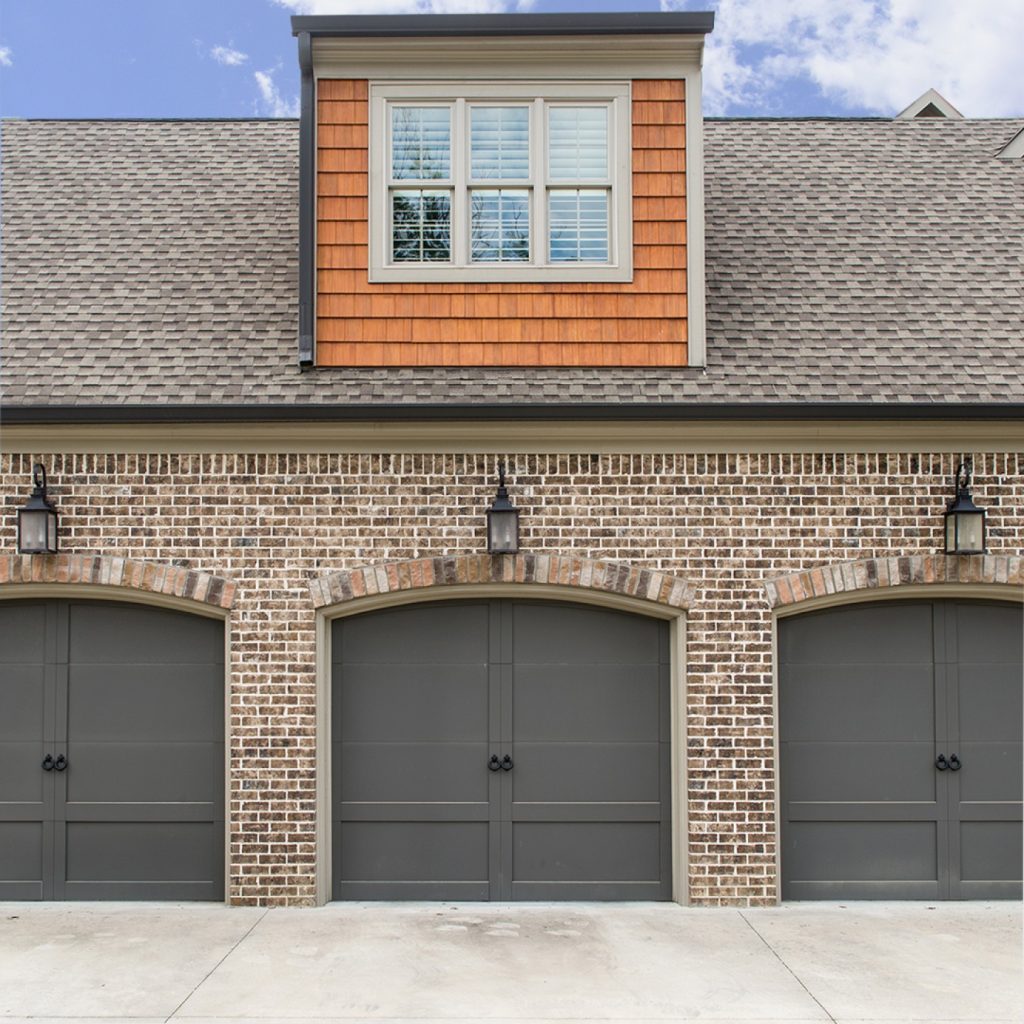 Off-White Warmth – Although classic, crisp white paint trim is a popular design element in homes everywhere, you may want to consider off-white paint tones that bring in chic style while still contrasting a darker brick. Cream-colored paints are just as classic and versatile as bright white and can match every type of brick exterior equally well. In fact, these subtle shades feature unifying, underlying warmth that actually blends with the rust and maroon tones of brick more naturally!
Proportional Palettes – As you select paint colors to complete or refresh your brick exterior, consider a palette that is proportional to a 60/30/10 rule. Since brick is most likely the dominant building material for the home, consider the brick color to be the 60% dominant color of the overall exterior. Next, set a secondary color as the 30%, which may be another building material. Use the remaining 10% of the home exterior to paint an accent color that complements the other two. Even if these percentages are not exact for your exterior, this general guideline can help you determine how to combine colors in the right amounts.
Color Wheels & Paint Swatches – Rather than simply envisioning what colors might work for your home, use an actual color wheel and paint swatches to help narrow down your choices definitively. You can use a color wheel to solidify a complementary color scheme by starting with your brick color and looking at the colors that are directly across from it. These valuable tools help minimize surprises from the finished results.
Since paint colors usually appear lighter on home exteriors because of sunlight, it is important to then gather paint swatches of your favorite options and see how they appear in natural light at various times of the day. In this home exterior created with Magnolia Ridge brick (right), the sage-brown painted shutters work perfectly in the ample light providing a subtle touch of green in the brightest part of the day while always offering dark contrast that matches the darkest tones within the brick: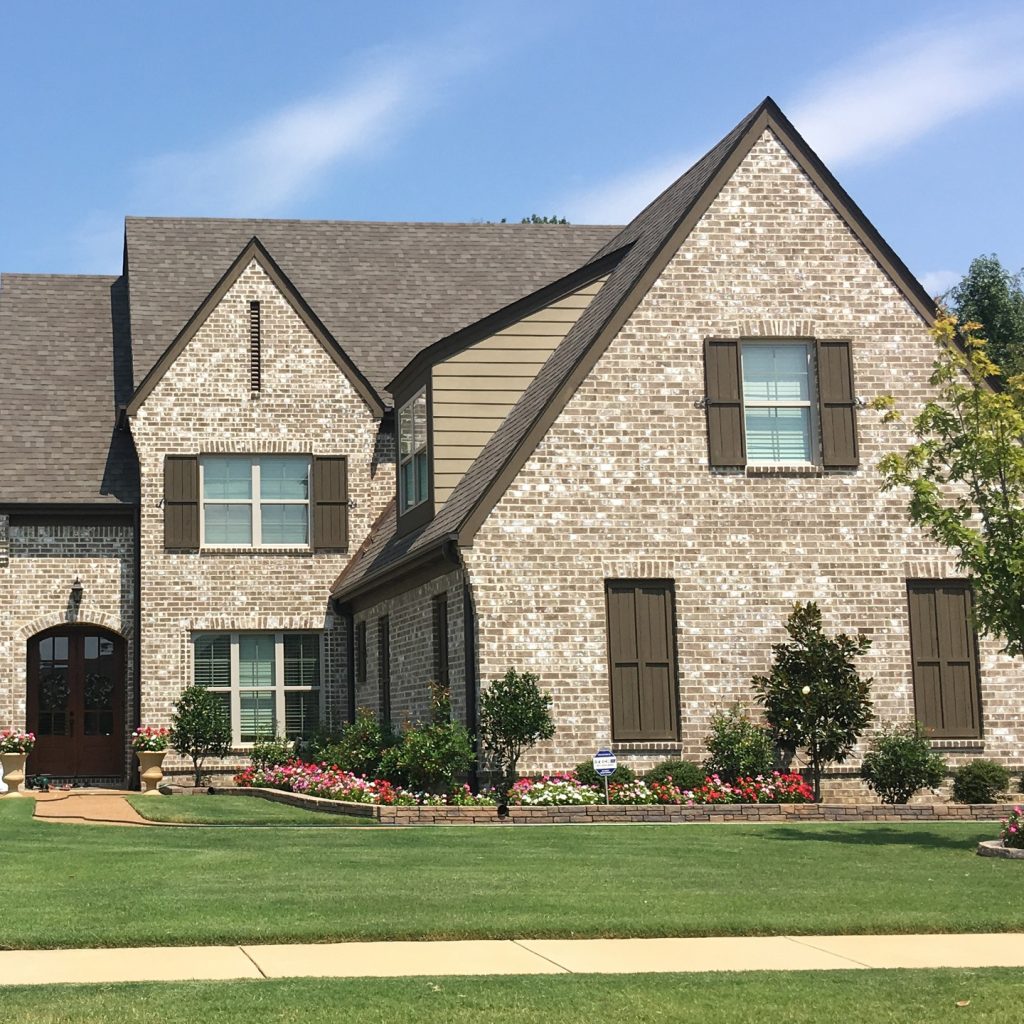 Now that you have these savvy tips in mind, it's time to gather inspiration: In addition to exploring our North Georgia Brick Pinterest page for examples of gorgeous brick and paint color combinations, drive through your favorite neighborhoods that feature brick homes and take note of exteriors with similar colored brick as your own. If you need design assistance with a new build, pay the brick experts in our Cumming and Cartersville showrooms a visit for extra guidance when pairing paint colors with the North Georgia brick variety you are building with!