With warmer weather upon us and plenty of sunny days ahead, there's no better time to make sure our exterior spaces are in excellent shape for relaxing outdoors! In addition to getting your pool ready and making sure your landscaping looks flawless, we love the idea of using stylish North Georgia Brick pavers to redo walkways and frame outdoor areas. Thanks to the strength and durability of brick, the new pathways, patios, and driveways you create will last annually and be ready for use next year at the same time! Here are a few of our favorite valuable benefits of brick pavers:
Strength – Like we just mentioned, brick is engineered to last. In addition to being one of the most durable building materials, the color of brick does not fade after long days under the sun, or from season to season. The outdoor design that you create will stay that way for years without any need to repaint, smooth out dents, or replace pieces like you would with other materials. In fact, brick pavers last longer than poured concrete and hold their color better than decorated concrete. You've got to appreciate the unbeatable combo of durability and color retention!
Gorgeous Appearance – As beautiful as classic red brick is, your paver color options are hardly limited to this iconic shade. From lighter Alabaster and Dauphin varieties to mixed looks like Old Mocha (below) and Brookstone Full Range, brick pavers enhance your design capability to complement or contrast a wide range of home exteriors. You can also explore eye-catching offset, herringbone, or parquet installation patterns for greater visual interest and upscale appeal:
Non-Slip Surface – When it comes to afternoon thundershowers, your brick pavers will provide a slip-resistant and skid-resistant surface due to their natural texture and highly abrasive characteristics. This also makes brick pavers a great fit near pool areas and fountains where water can often be splashed. Once installed, your pavers are ready for use immediately so bring on the summer pool parties and cookouts with your safe, striking brick areas!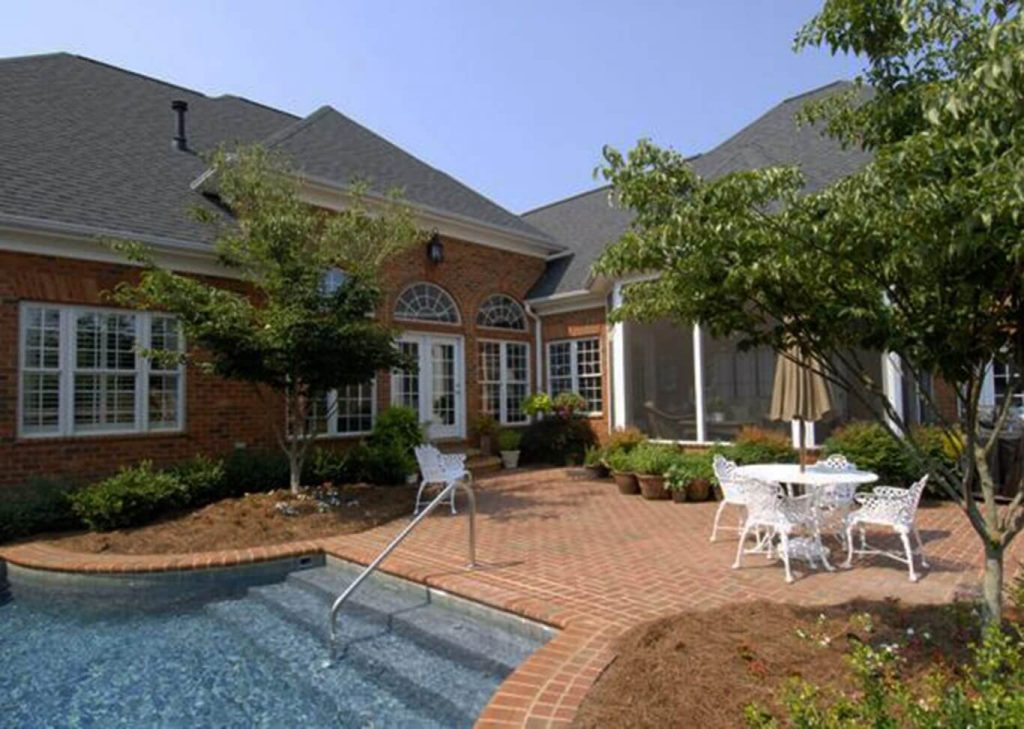 Low-Maintenance – Another reason you will love using brick pavers is that they are extremely low-maintenance and do not require regular cleaning. You do not need to purchase any special cleaners or equipment to maintain your brick pavers. As we outline in our The Best Ways to Clean and Maintain Your Brick for Spring blog post, all you need is a garden hose and a gentle vinegar/water cleaning mix.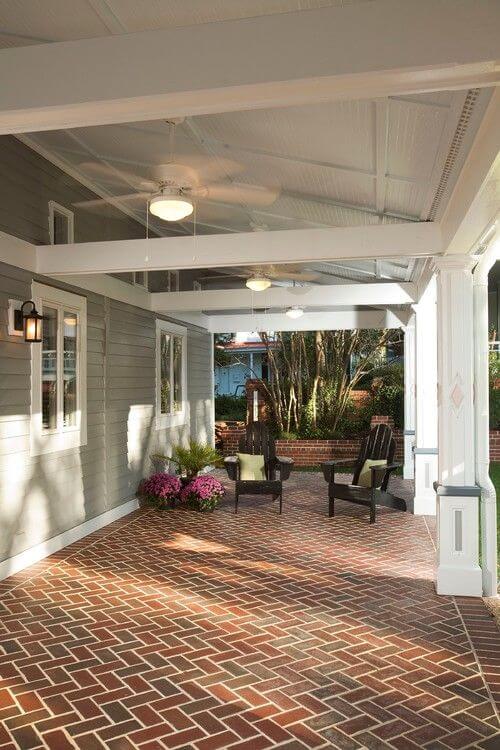 Affordable to purchase and install, your brick pavers will uplift your property and look exceptional for years to come. Explore our North Georgia Brick Pinterest pages for more brick paver designs and bring your favorite ideas to the experts in our Cumming or Cartersville showrooms!