For those who love spending hours exploring Pinterest and Instagram looking at all the ways brick is used in new builds and projects, it's always amazing to see the creativity on display with this classic material. Whether it's the organic neutral color palette, engaging texture, or visually interesting installation patterns, all eye-catching North Georgia Brick options can be used to complete incredible designs.
Great ideas are meant to be repeated and social media is an excellent source of brick trends that capture fresh visuals and truly inspire. Recently, the Brick Industry Association (BIA) partnered with some talented creatives to highlight dazzling brick projects and impressive techniques! Here are four of our favorite ways that influencers are using brick:
Brick Kitchen Backsplash, Influencer: @jenniferkadams
When searching for standout kitchen design elements, Jennifer Adams turned to brick as a timeless material since it's durable, classy, and long-lasting. The trademark warmth and texture of brick were just as important to her as how low-maintenance and easy to clean it is. Perfect as a weekend project that can completely transform a kitchen, Jennifer's brick backsplash (right) complements her cream cabinets to perfection:
"My most favorite feature in our kitchen is my brick backsplash. I love the coziness and texture it adds to a home. It's also so easy to clean! Soap and a rag and you're good to go!"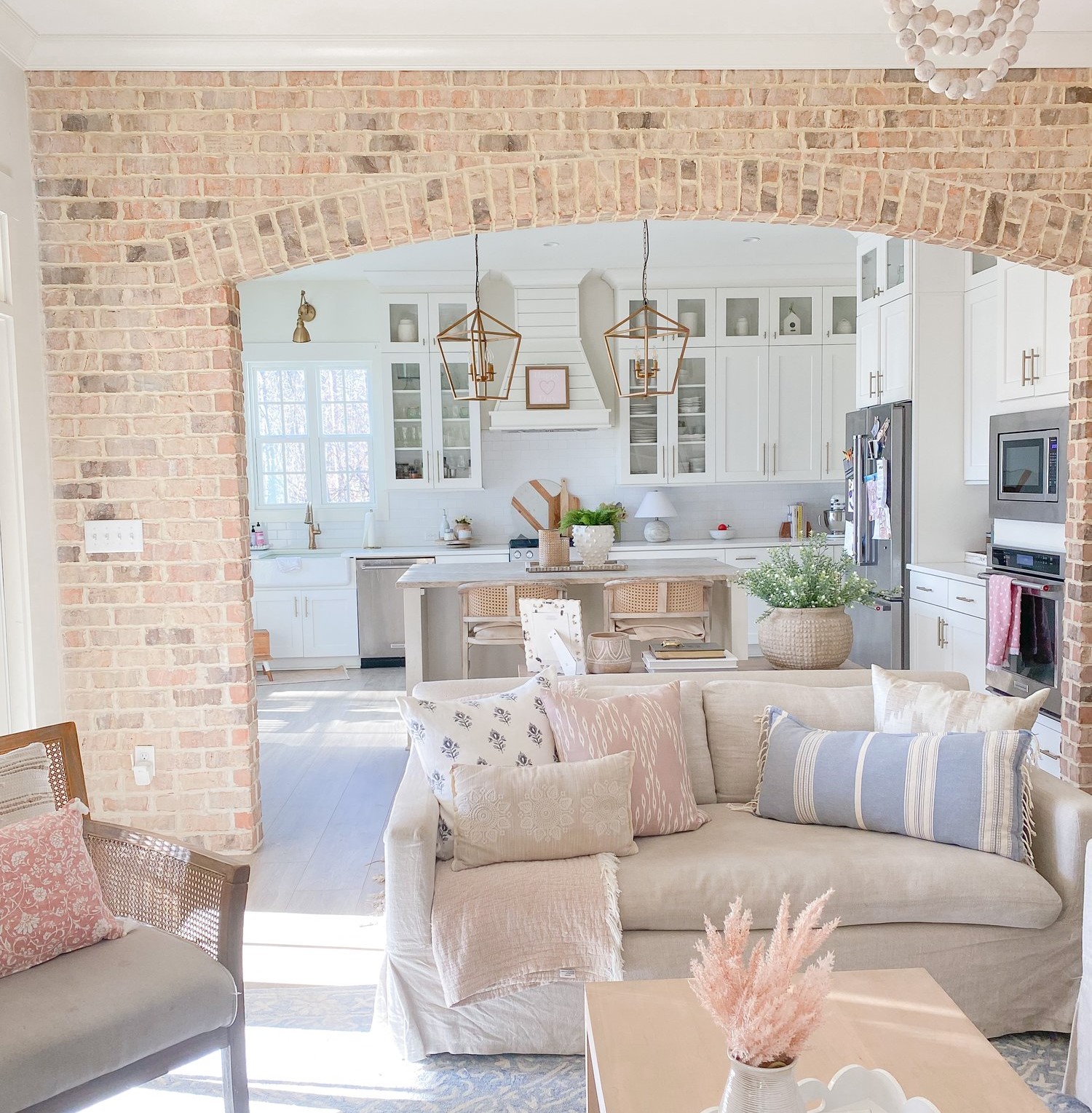 Thin Brick Arch, Influencer: @montgofarmhouse
Since thin brick weighs less than full brick, it is an exceptional choice for interior projects like arches, backsplashes, accent walls, and more. Jamie Montgomery of Montgo Farmhouse used the wide variety of thin brick shapes and colors to capture her favorite decor style and found ways to incorporate this easy-to-use material throughout her whole home. The thin brick arch she created (below) adds dimension and visual interest while elevating a transitional space:

"We love the warmth and character it adds to our main living area. It also serves as a separation detail in our open floor plan between the kitchen and living room."
Painted Brick Fireplace, Influencer @HouseOnASugarHill
It's no secret that a brick fireplace is a standout design element in a central household gathering room, but Jodi Bond of House On A Sugar Hill wanted to update her fireplace by brightening the shade. Whitewashed brick is extremely versatile from adding a slightly antique or vintage vibe to lending modern or contemporary appeal. By painting her traditional red brick to a beautiful white brick, Jodi was able to open the room and transform the feel:
"My fireplace is now a statement piece of its own. One part vintage, one part modern, and an added feminine flair. Just the combination I was hoping for!"
Make sure to explore www.GOBRICK.com for even more outstanding project results from brick influencers who provide incredible info, tips, and ideas. You don't have to be a social media star to create a dreamy design vision with brick: Visit the experts in our Cumming and Cartersville showrooms and see your favorite options in person!