The new year is full of possibilities and this includes exciting new builds, projects, remodels, and renovations using North Georgia Brick products! While we certainly love our wide-ranging brick varieties, today we are highlighting the value of using our stone veneer to complete your design vision. In addition to improving resale value and enhancing curb appeal, our stone veneer options are easy to install and easy to maintain as well. Here are just a few of the stone veneer looks we love that we think you'll adore as well:
Craftsman Cottage Appeal – As we noted in our Brick for Craftsman Style Homes blog post, these popular cottage-style homes and trending design principles showcase a connection to natural materials and a hand-worked artisanal feel. This exterior uses Craftsman Cottage Series Stone in Pecan (below) to provide timeless texture for the finished home. We love the way that the naturally formed, multi-colored stones play off the exposed beams and provide attractive column bases for this charming bungalow: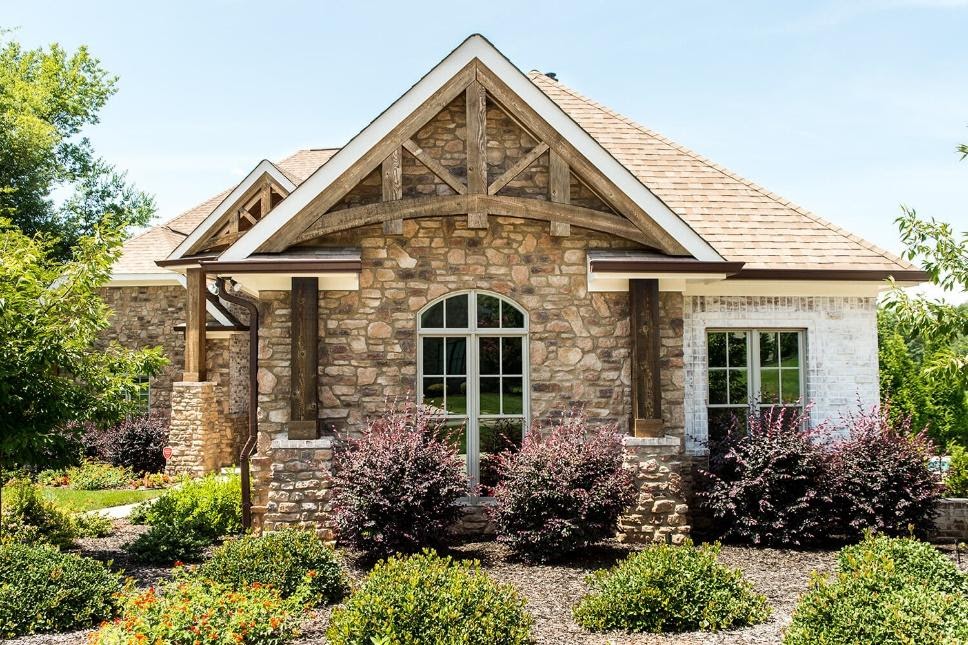 Stone & Brick Perfection – We've also covered how much we love the pairing of stone veneer and brick for gorgeous exteriors! Even though you will need to consider factors such as color contrast, patterns, design focal points, and stone sizes, the results when paired perfectly are simply breathtaking. The beautiful brown, red, and tan stones in Handcrafted Series Stone in Pecan (below) match the tones of the brick exceptionally, while also highlighting precise lines and rugged symmetry, for a completely captivating exterior: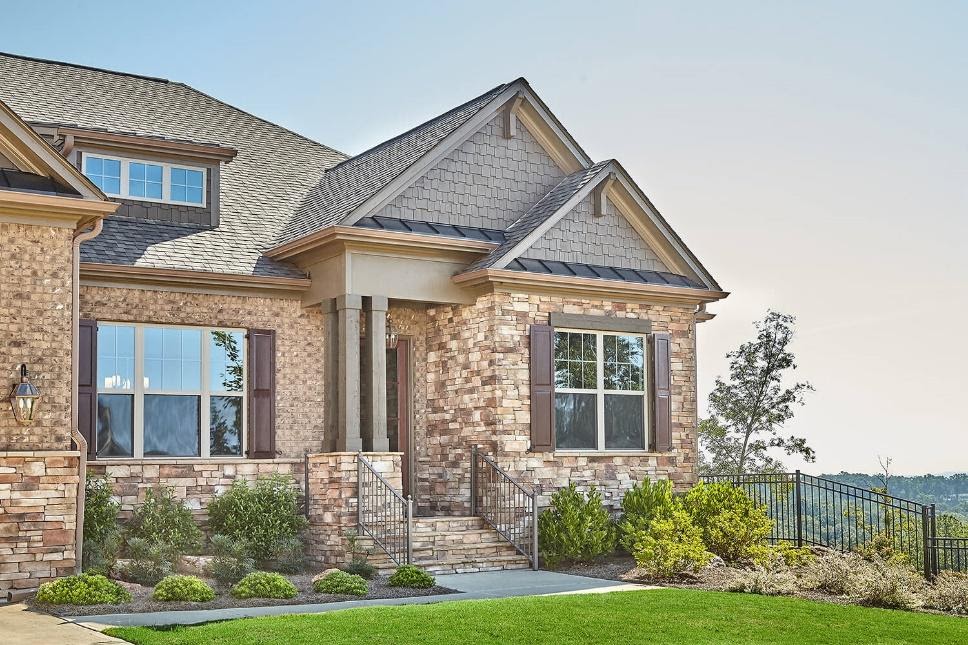 Modern Stone Panels – Our stone veneer isn't just for the front exterior either: Look at how this utterly chic and cozy fireplace made with QuickFit Series Stone in Sunset (below) transforms a standard backyard into a hip outdoor lounge. These easy-to-install stone panels are grout-free and full of authentic, natural texture: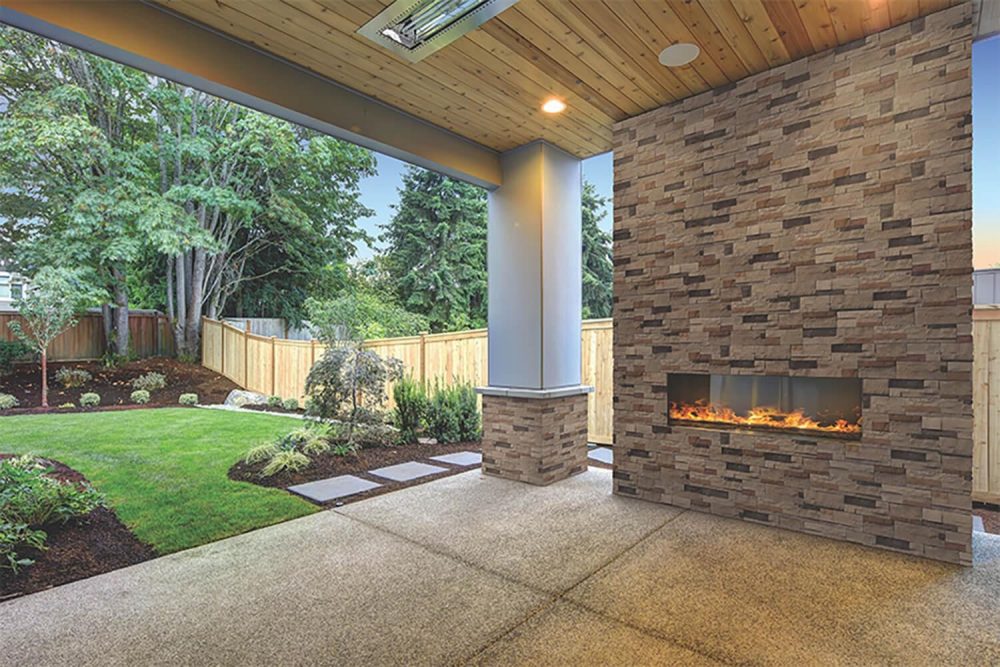 Bring in this same rich beauty inside and utilize the visual power of a stone veneer accent wall! Whether you want to create an eye-catching transition or create a design focal point for an ordinary space, a striking accent wall made with QuickFit Series Stone will add just as much balance as it does undeniable presence.
Unique Blends – When it comes to using stone veneer indoors, the possibilities are many and the results just as dazzling as they look outside. Behold this eye-catching kitchen island made with Olde World Series Stone in Pecan (below) that turns the average kitchen into a culinary work-of-art! This engaging blend of stone shapes, sizes, and gorgeous tones uses a little bit of traditional, historical, handmade, and modern spices to produce a design element that's full of flavor: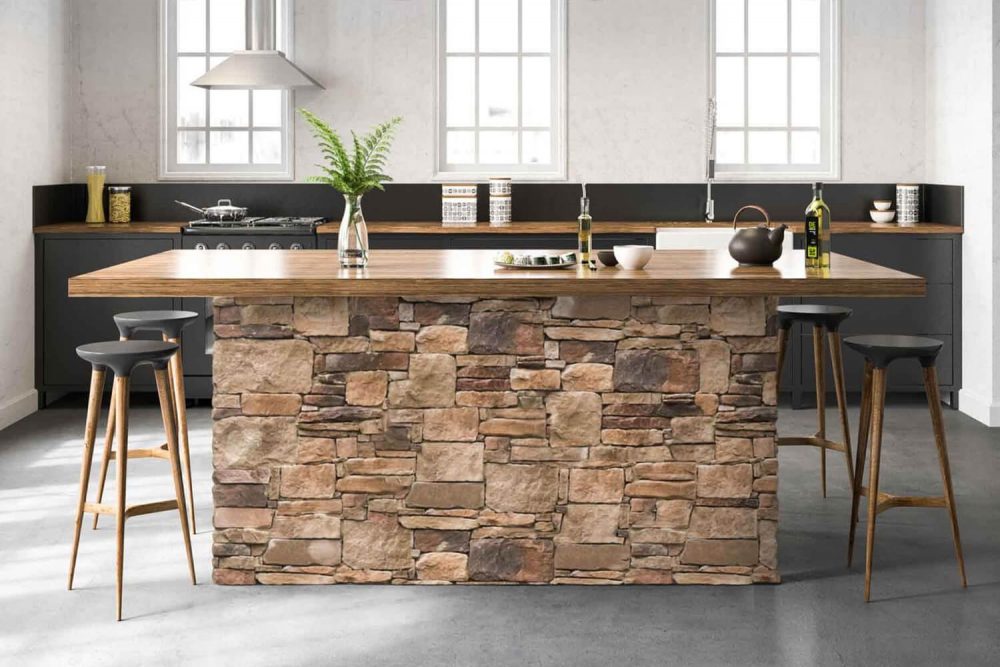 How will you use our stone veneer looks to enhance your exterior and interior projects? For expert advice and design feedback, stop by our Cumming and Cartersville showrooms to explore how the look and versatility of stone will add unmistakable value to your finished designs!