Nothing makes a home exterior pop like brand new paint. Just like we touched on how the right mortar color will make a difference in the way that your brick shines outside, the right exterior paint color and brick pairing will produce equally dazzling results! Whether you love traditional red brick, browns, creams, pastels, or bricks with high amounts of color fleck, there's a perfect paint combination just waiting to make your property come alive. Consider these valuable tips on how to pair brick with exterior paint colors:
The first tip and most important: Always test your paint colors before applying them where you envision they should go! Even if the colors turn out exactly or better than you imagined, you can avoid costly mistakes by following this simple step.
Next, invest in high-quality paint. Since your North Georgia Brick exterior will last up to 100 years, you want your attractive paint colors to last as long as possible. Dark colors will naturally fade faster than lighter colors, so that makes investing in high-quality paint even more important. Avoid builder-grade paint and remember that a longer warranty is indicative of a higher quality paint brand.
After you select a high-quality paint brand, make sure that you keep all exterior paint colors you use within the same brand to ensure consistent results. Just like when designing an inspired interior, you can use a color wheel to find analogous color pairings to create a complementary scheme.
If your brick exterior features three colors, the 60/30/10 rule will never lead you astray! In this scenario, design 60% of the exterior with a dominant color (which is often the color of the brick), pick a complementary secondary color for 30% of the overall exterior, and pick another complementary color to serve as the exterior's remaining 10%.
Brick presents an earthy finish and an organic-inspired color palette, so muted paint will always pair best. For example, since many of your favorite brick varieties will either be a red tone or derive from the red family, it's always wise to avoid a super crisp white paint pairing. A creamier, warmer white paint color such as alabaster or light greige will certainly appear white outdoors in sunlight!
Generally speaking, paint colors will often appear 5 to 10 times lighter outdoors than they do indoors. For instance, gray paint can broadcast a blue, green, or violet tone depending on the natural light that the area receives. Thus, when selecting paint colors, it's better to err on the darker side of a favorite shade.
If the non-brick material of your home exterior has a rough texture such as stucco, paint colors can often appear darker once applied. The same paint color applied to siding and stucco will appear darker over the stucco.
When it comes to pairing a paint color for your shutters, appropriate contrast will create an eye-catching design. Red or light-colored brick will look exceptional with black or dark-colored shutters. Conversely, darker brick will balance cream or light-colored shutters perfectly.
In addition to balancing your brick color with the color of your roof, here are a few common popular paint combinations that work exceptionally well:
An exterior that features red brick such as Cambridge will pair with a muted sage green or paint color with green undertones tremendously well since red and green are complementary colors.
Neutral brick tones such as Marshton will benefit from a pop of bold complementary color on the trim. We love the deep brown tones used to add dimension to this gorgeous property (below):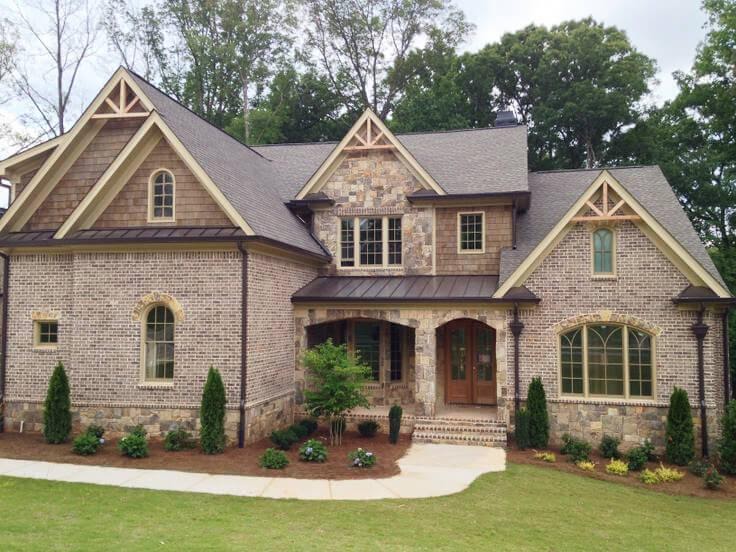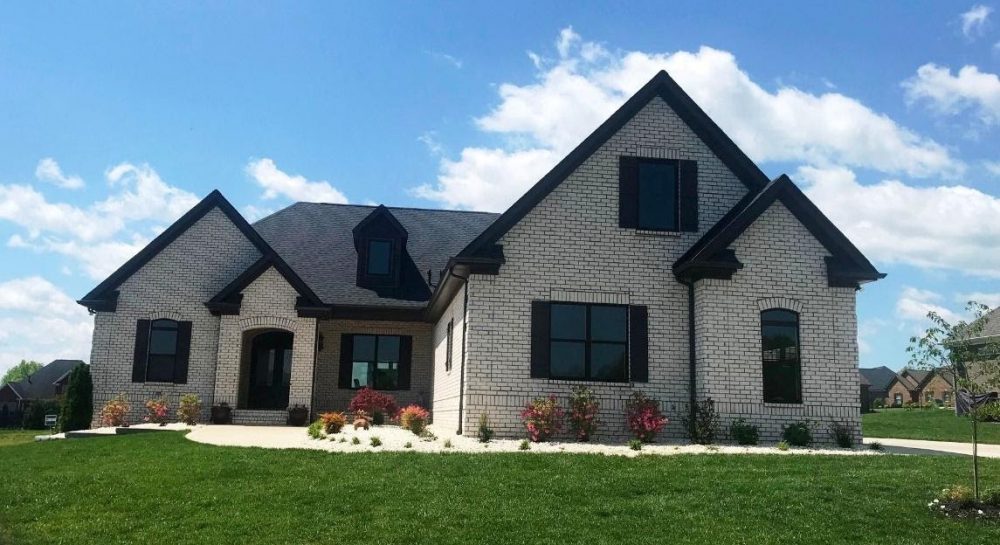 Ultimately, the choice for your brick and paint color combination is up to you. With careful consideration and following thoughtful design principles, your finished home will deliver supreme personalized curb appeal that you cherish. Make sure to bring your favorite ideas and questions to our Cumming and Cartersville showrooms and our brick experts will help you land the look you love!